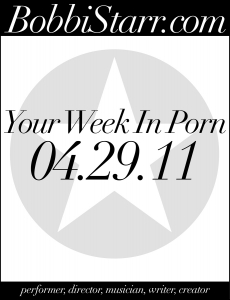 This week: Adult's primary testing center — Open? Closed? Consult a Magic 8 Ball? Parents freak the fuck out over an English teacher moonlighting as a romance novelist, forget their kids hate reading. The New York Times discovers sex toys.
The adult industry's primary testing center could be closed for remodeling. Or it could be closed for good. Like so many other things about the industry, its future seems up in the air.
Pennsylvania parents think of the children when it comes to an English teacher and her side job as an author of "erotic romance novels." It's a good thing those kids don't know anything about the internet or search engines. Oh, wait…
No matter where they're from, it's always sexy when booth-babes throw down. Do you think they had a deep tongue kiss when they made up? Yeah, I think so too.
Is it a phallic symbol if it's really shaped like a phallus? Answer that one, grasshopper.
India is now the Indiana of Asia — first they moved to block .xxx access, now they block porn access from internet cafes.
You can now call that "back massager" what it really is without any shame, as sex toys are now mainstream (apparently).
Big boobs are coffee table book fodder in Taschen's latest tome.
Adult Friend Finder is set to live the dream of porn companies by going public…
…while the stock of one of the adult industry's biggest companies is in jeopardy.
The revelation that the online narcissists that make up Twitter masturbate more doesn't seem like such a revelation when you think about it.
What's new in Juliland.com: All new photo sets featuring Miko Lee and Rebecca Blue! April jGrrl Nicki Hunter wraps up her reign with two Fotoland sets and one all new Movieland feature!
And don't forget: BobbiStarr.com — the only source of porn you'll ever need.