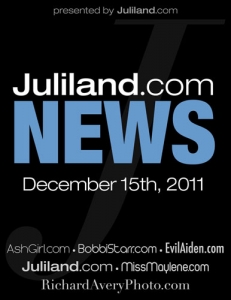 Here in the Juliland Universe, we are lucky enough to have been blessed with a small hand full of amazing writers.  We have Stella Blue, who writes about her world-wide travels across the globe, Tod Hunter, who blogs about his everyday thoughts in a thoughtful and kindhearted way, and Scarlett Stone, who writes all about sex in a smart and witty manner.  And of course, we have myself, Richard Avery, who gives our Juliland followers thoughts on camera gear, techniques and even secret insights into your favorite grrls.
But before you read one of our articles, do you ever stop to see who wrote the article itself?  The thing is, once you start sifting through our posts, it's quite apparent who writes what and in what style.  The way in which I write versus the way in which Stella writes is entirely different, and I really appreciate that diversity.  But I wonder if our readers can tell the variance between us all, or if they even care.  Do you stop to look?
But here's what I will say: if you are going to comment on an article, please be sure to check who wrote it before you begin giving us your thoughts.  Quite frequently, we put our articles on the blogs of Bobbi Starr, Michelle Maylene, Aiden Ashley, and Ash Hollywood as a way to spice things up and create a little variety on each site.  If we do, those articles are not by the grrls, but by either Stella, Todd, Scarlett, or myself.  Please keep this in mind! Thanks all!
PS. We have more contributors coming soon.  Stay tuned.
Richard Avery