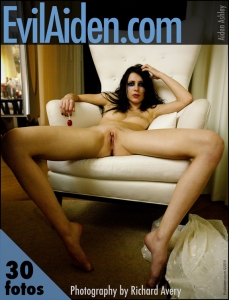 Hey guys, do you like sex, drugs and rock n' roll? Granted, you might not like two out of the three — though I really doubt we're hitting the Pat Boone-listening, recovering addict demographic — but even if you only like sex, you'll love the latest addition to the Juliland world, former jGrrl of the Month Aiden Ashley.
Her life, as she states, is a "twisted circus," and we're just living in it…or at the very least, we're just seeing it through her all-new website, EvilAiden.com. Anyone who's a performer has heard the horror stories about webmasters. Hell, that's why I went with Richard Avery for BobbiStarr.com and why Aiden teamed up with him for EvilAiden.com.
She's in the select company of females, and by that I mean myself, that Richard's approached to join the Juliland family. Aiden's only more than willing to admit that only Richard could understand her vision of porn that is sick, fun and most of all different.
In one of her blogs posts, she wrote, "When I was the second girl Dick Avery (photographer & master mind of Juliland.com) approached about doing my site, I almost died. (No really, I was tied up in a closet being choked out and I almost passed out). I agreed right away, didn't even hesitate because I haven't met anyone like him before, with such a similar Evol mind. Dick rules."
Aiden's site will include a blog, photos and videos updated on a weekly basis. Her goth-inspired girl/girl and solo scenes can't come soon enough!  So, check out EvilAiden.com today!