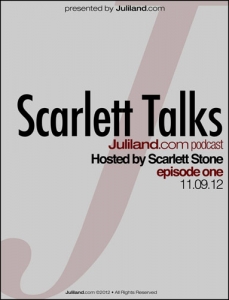 E01: Intro & Richard Avery
While Scarlett Stone has always been the eyes and ears of Juliland.com, she is finally now the voice of our very special Universe as well!  You may have stumbled upon her clever articles about sex, toys, adult content, and men, but you've never actually listened to her speak about these issues.  Well, now is your chance to truly hear her voice and her opinions in the much anticipated podcast show, Scarlett Talks!
In this first episode, Scarlett and Richard Avery discuss what to expect in weeks to cum if you're smart enough to follow Miss Stone's podcast on a regular basis.  A quick taste reveals that some of her topics will include interviews with our grrls, discussions on feminism and porn, dialogues about the penis, and conversations covering public hair to Internet dating.  Needless to say, you're most likely to get schooled by the very best!