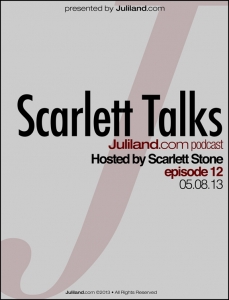 E12: Bobbi Starr & ElectroSex- PART DEUX 
While Scarlett Stone has always been the eyes and ears of Juliland.com, she is finally now the voice of our very special Universe as well!  You may have stumbled upon her clever articles about sex, toys, adult content, and men, but you've never actually listened to her speak about these issues.  Well, now is your chance to truly hear her voice and her opinions in Scarlett Talks Season 2!  
In this second episode, Scarlett brings Bobbi back to Los Angeles and discusses all she's learned at San Francisco's Armory.  As the main bitch in charge of Kink.com's Electrosluts and Wired Pussy, Bobbi knows a thing or two about how to properly blend voltage and intimacy.  To learn about the art of electrosex, the twists and turns of electric toys, and the mistakes made on set, listen in to this podcast!