I present to you all the very first Juliland Awards! We are so excited to announce this years winners, and I'm sure you're all very anxious to hear!  Well, today is your lucky fucking day!
I bet you're asking, "Who the fuck votes for these awards?  Who came up with the categories?  Whose dumb idea was this?"  Obviously, it was my crazy idea. Are you that surprised?  But that being said, the entire Juliland Universe, staff, and crew decided on the specific categories.  We wanted to take time in determining the winners, but obviously, did NOT want to be too serious with our decisions.  Like everything we do, this is all about fun and more fun.  Then, we all voted over a few drinks and piles of food, reviewed over ALL of 2011 content and grrls, and voilà – the first ever Juliland Awards!
I hope you agree or disagree, but whatever you do, please enjoy and let us know if we got it right or wrong!  We always love hearing from you.  So, without further adieu, the awards go to…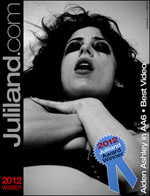 Best Video – Aiden Ashley in AA6
AMAZING video!!  I'd say this one was chosen over all the others because it's so fucking Evol and it's Aiden Ashley.  The real reason is that it was so much fun creating it that I really don't even remember making it.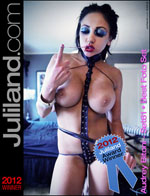 Best Foto Set – Audrey Bitoni – Set61
I know, I know.  Among a million photos and many grrls, it was difficult to decide on this award.  But upon scrolling through our archive, I stumbled across this beauty of a collection, a set of photos featuring Audrey Bitoni.  I may have said it before, but she is one of my ALL time favorite muses, best friends, and is a sick fuck just like me!  Also, this was the last set-up of a 24 hour shoot we did together.  It involved way too much champagne and just the  right amount of fun. Keep it up grrl.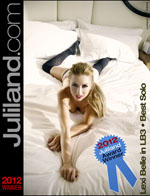 Best Solo – Lexi Belle in LB3
Two words: Lexi Belle.  Two more words: Ice Cream!  Just watch and enjoy!  Lexi is our QUEEN for many reasons and this video shows you why!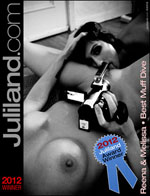 Best Muff Dive – Reena Sky & Melissa Jacobs in SKY5
Reena Sky is what we call a winner in every sense of the word.  She surprised me one night and brought Melissa Jacobs by for a visit.  Next thing you know Reena is showing me one of her many skills.  The best part is, I shot it just for you!  You gotta love Reena and Melissa!  Yummy!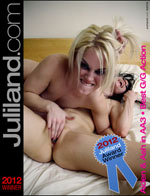 Best G/G Action – Aiden Ashley & Ash Hollywood in AA3
Evol vs. Trouble and WE win.  One of the more fun videos I've created.  Why?  Because it involves two of my favorite grrls and it was just simple FUN!  This is why I walk around with a stupid smile on my face after I shoot.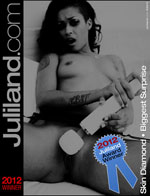 Biggest Surprise – Skin Diamond in SD2
Skin is everything that we at Juliland love and admire.  She is sassy, sexy, nasty, fun and most of all, messy.  Watch this video and see what a great surprise she is.  Thanks Skin for being the best surprise any man could have.  :-)
Rookie of the Year – Kourtney Kane
This was a tough one to choose.  There were many first timers in Juliland in 2011.  We talk a lot about what makes the rookie of the year.  What are the qualities?  Then we all said the same thing at the same time – Kourtney Kane!!!  She is sexy as fuck!  Add beautiful, smart, nasty, crazy, fun, and did I say anything about those fucking amazing legs?  She is what we call the complete package!!!  We hope to have her back again and again, but that's up to her.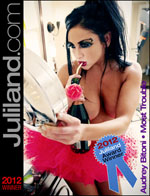 Most Trouble – Audrey Bitoni
Trouble is a very nice way of putting it.  Trouble is an understatement if there ever was one.  What Audrey is and means to me can not be put into words.  We have a special bond that is deep and strong.  Because of this it makes for trouble in so many ways.  I chose this category and winner with ease!  She does her best to make trouble for me and makes me crazy, but luckily I'm one strong sick fuck.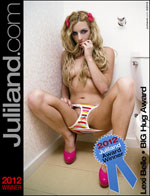 BIG Hug Award – Lexi Belle
We didn't want to have "The Best Host Award" or "The Best Queen Award" because we knew the obvious winner would be Lexi.  So, we rethought this and called it the "BIG Hug Award" for the talented Lexi Belle and all that she poured into her first season of 7 Minutes of Heaven.  Not only was she the best host, but her energy and passion she poured into the show was also amazing!  She gets a BIG hug from everyone here at Juliland!!!  Long live our queen!!!  xoxox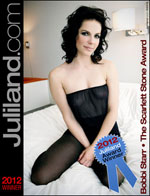 Scarlett Stone Award (voted by Scarlett Stone) – Bobbi Starr
I can remember the first time Scarlett met Bobbi. She was so enamored by this Starr for so many reasons, but I'd say the biggest reason she loves Bobbi are her smarts.  And I couldn't agree more!  I remember Bobbi was answering her emails by video and Scarlett was sitting there with such a smiley grrl crush on her face.  Then Scarlett said, "God, she's so adorable and cute!"  After that, Scarlett made it a point to have Bobbi on the Juliland site like butter on bread.  She also said she wanted more content from Bobbi that discusses the more academic aspects of porn. So Bobbi, this award goes to you!  Kisses from Scarlett!