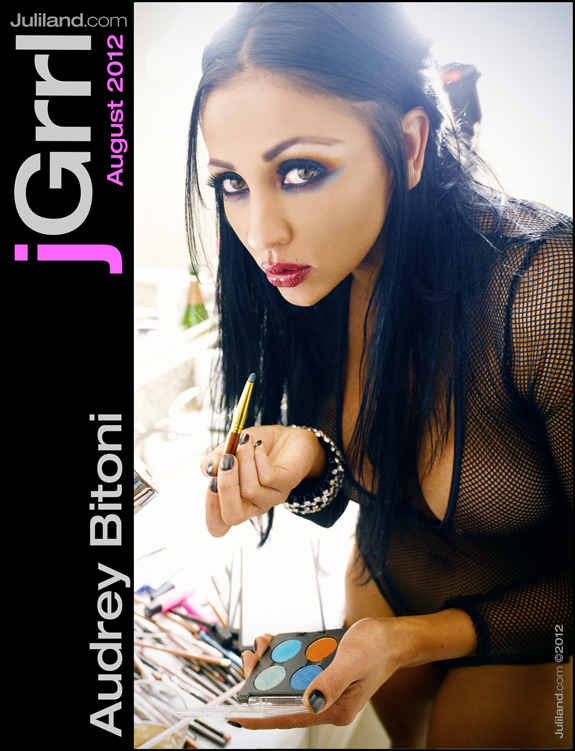 While she may appear like a tough cookie, Audrey Bitoni wants you all to know, "I'm a lot nicer than people really know."  With her long dark hair, curvy figure, piercing eyes, and plump lips, Audrey has all the qualities needed to coerce a man to kill.  Nevertheless, she likes to make it a point to always kill with kindness.  And "she does," claims Richard Avery, "she makes people fall in love with her."
If her large following is any indication, Audrey Bitoni is now on more sites than we can count.  Of course, nothing can compare to her extensive work here at Juliland.com.  She tells us, "I love Juliland because I'm all over it and there's a unique quality to it.  Richard Avery is very dear to my heart.  I'm extremely comfortable with him and all that he is.  He taught me about the importance of passion and communication."  The key to their chemistry also seems to be their inside jokes, witty banter, and overall good vibes on set.
Despite being an über sexpot and noted adult star, Audrey expounds that she's actually a fairly traditional girl.  She explains, "Believe it or not, I don't really enjoy casual sex.  In fact, I like connecting with someone on a more passionate, personal level if I can."  On that same accord, Audrey's favorite sex position is good old missionary because she's able to look into the eyes of who she's having sex with.  A truly unique woman, Miss. Bitoni seems to be breaking all the rules and making all the right moves.  Keep up the good work, doll!