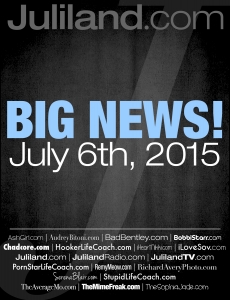 BIG NEWS:  We are very excited to announce that our fearless leader, Richard Avery, has joined in on a very cool project.  He is Producing his first Documentary.  Lets just say he's helping out where ever he can!  This is a BIG deal for Richard, because he gets to take his talents outside his crazy erotic world.  The documentary is on Photographer Chris Cuffaro and is called Greatest Hits.
Chris has been shooting music photography in Los Angeles for over 30 years and is producing his biggest exhibition ever called Greatest Hits.  It was Richard's idea to document Chris's process in creating this exhibition and to get the stories behind the photos.  It's Richard's job to help, produce and make this super special!
Sign up for the Greatest Hits Newsletter at CuffaroHits.com and they will keep you up-to-date with all the latest news.  Follow Richard on Twitter and Chris on Twitter for instant updates.