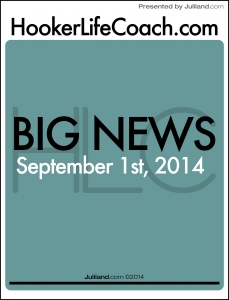 JULILAND NEWS: The Juliland Universe is happy to announce the latest addition to our ever expanding Universe… HookerLifeCoach.com!  What the fuck is HookerLifeCoach.com you ask?  Like PornStarLifeCoach.com we created it as a resource for anyone who wants to pursue a life in adult business.  We believe that we should NOT judge anyone for anything they want to do with their lives, but we do believe in educated decisions.  As our fearless leader always says… "You can never be too smart!"  Thats why we created this blog so that anyone looking to get started or looking for information can have a place to go and get smart!
We know and understand that Prostitution is illegal in most states, but we also know its around and will always be around.  We also know that in today's world grrls are making choices for their many reasons.  And we know that men need to step up and have some manners.  Lets be real… Its just sex!  No matter what you do in life… Be smart & be careful.
There is NO actual life coach.  The life coach is all of our contributors and you.  The life coach does not know everything, but is willing to learn.  Like any advice from a friend or a life coach… Take it with a grain of salt.  We do NOT know everything, but if you listen you will learn.  Thank you!