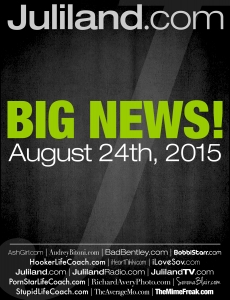 BIG NEWS: There has been a lot going on in my Juliland Universe and there is a lot more coming in the months to come.  As you saw and heard I've been busy producing a documentary.  The Seed&Spark campaign sucked the life out me.  It was one of the hardest projects I have ever been involved with, but I learned a lot and I'm proud as fuck with everything we accomplished.
Some sad news I must share with you and everyone who follows what we do.  I'm sad to report that RemyMeow.com and TheSophiaJade.com will be coming down August 29th.  Remy and Sophia are dear friends and will always be special, but we just didn't have the time to make this work.  I owe you and all the fans a BIG apology.  I'm sorry that I could not make this work.  The good news is both Remy and Sophia understand.  I owe them both a BIG thank you and a even bigger HUG!
ALSO I'm sad to report that we will also be taking down Chad's (our intern) blog Chadcore.com down as well.  Chad is winding down on his internship and is actually leaving for a BIG surf trip in October.  He's one lucky fuck!  Chad & his best friends are traveling to Hawaii for the winter to surf the big waves of North Shore!  I hope to join them for the Christmas holiday to have some fun myself.
LAST, I'm sad to say there will be a few more changes in the weeks to come.  I can't say anything now because nothing is locked in so far.  All I can tell you is that the winds of change are blowing and blowing pretty hard.
I want to thank ALL my grrls for being the best of friends and for being so supportive.  Without their support, none of this happens.  It wouldn't be any fun either and if you know me… I'm all about fun.  Thank you!!!