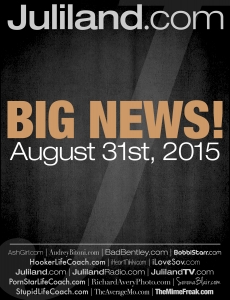 "All Good Things Come to an End" – Nelly Furtado
I'm sad to say that it's time to shut down BobbiStarr.com from the Juliland Universe.  Yes, it's over.  Bobbi and I have talked about this a lot for the last year.  We have not updated the site or blog in over a year and have no plans to.  Bobbi has moved onto bigger and more important things, the biggest being a full time mom.  I myself have plans for a different future, so we both agree it's time to say good-bye.
We both want to thank everyone from the bottom of our hearts for your support and understanding.  We had a good run and even won an AVN Award for best website back in 2012.  Totally rad!  We're so proud of what we created together and we are proud that we always gave our best.  The plan is simple… The blog and pay site will be removed on October 30th.  To all the existing members… please close out your memberships ASAP.  I'm surprised you stayed on so long with no updates, but I just think you forgot.
Bobbi and I seriously want to say THANK YOU!!!  Please be your best always and most of all be nice.  Take care.
Bobbi & Richard