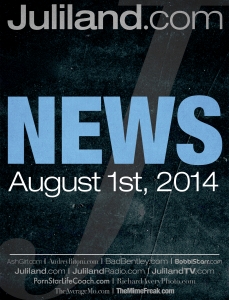 JULILAND NEWS: We have lots of news this month in the Juliland Universe.  I want to fill you in and let you know about all the coming changes.  They're all good changes I promise.
Starting with jGrrls… Phoenix Marie was our final jGrrl.  Yes, that's right, NO more jGrrls from here on out.  It was a great run for 9 years and we've worked with the best of the best.  I love every jGrrl I've shot, but it's time for a change.
Next up… We're cutting back on weekly updates.  Instead of updating five days a week, we'll now be updating twice each week.  Nine years with five updates every week is NOT easy for one man to do, so I'm giving myself a break so I don't lose my mind anymore than I already have.
Because of these two big changes we are lowering our monthly membership to Juliland.com.  We wanna be fair and fun so we're cutting the price in HALF!  That's right, half!  Our new monthly rate is $14.95, three months are $35.95 (a 20% savings) and a six months subscription is $53.95 (a 40% savings).  If you're not a subscriber or your subscription has lapsed, now's the time to take advantage of everything at Juliland.com.  We have over 40,000 fotos, 800 scenes, 100's of TV episodes and so much more! It's the deal of a lifetime, so get off your ass and JOIN NOW!  You have NO more excuses.