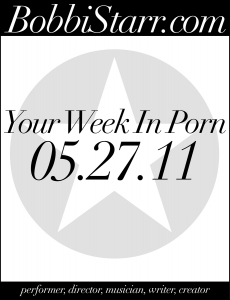 This week: Men want to bedazzle their junk too. (Wait, what?) Christina Hendricks says they're all real. Which just fine with me. Utah proves, once again, why they're just a burqa away from being the Afghanistan of America — and by Afghanistan, I mean someplace no one wants to visit.
This ain't no over the shoulder boulder holster. It's a holster for small .380 automatics and small revolvers. I'm sure there's a kink for this somewhere in Japan.
If hot, sweaty men grappling each other in their underwear isn't a reason to watch MMA fighting, how about hot sweaty WOMEN grappling each other in their underwear? Yea, I'm sure I had you at "how about."
Judge refuses to hear any more porno file-sharing cases from a former divorce lawyer turned copyright attorney. Hint that the case won't go your way — you draw the same judge that threw your case out a few months ago.
Christina Hendricks says her boobs are real. Men everywhere shrug because they would have hit it either way.
Porno zombie camgirl AOL Instant Messenger bots could not pass a Turing test, shockingly enough. Still doesn't mean they won't try, though.
You say erotic, I say exotic. Unless you live in Utah, where I'm pretty sure showing an ankle is a felony that could land you as a registered sex offender.
Have you heard about "vajazzling"? You haven't? Consider yourself lucky. It's like a bedazzler for vaginas — and now the guys can get in that action. Hint for the ladies: if his junk is packing crystals, he's probably not interested in you.
I read my iPad for the articles.
Hey China, you couldn't stop at poisoning pets and putting lead in kids' toys, could you? You had to make porn that gives everyone headaches as well, didn't you?
Your week in Porn Parodies: "This Ain't Ghostbusters 3D." I really don't want to know how they worked the "don't cross the streams" line into this.
What's new at Juliland.com: May jGrrl Kortney Kane in an exclusive foto set and a new movie called KK4. Miko Lee visits Fotoland in a very nice way! Lexi's guest this week on 7 Minutes in Heaven is Wicked Contract star Alektra Blue. Lexi gets Alektra to blow something new.  AND of course this week another exciting behind-the-scenes look into Juliland.com's fearless leader Richard Avery shooting April jGrrl Nicki Hunter in Snog&Shag.  I'm proud to say shot and directed by me! Check it all out only at Juliland.com!
And don't forget: BobbiStarr.com — the only source of porn you'll ever need.