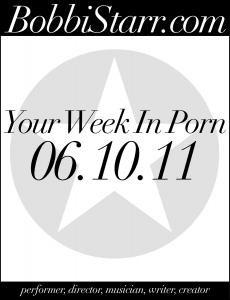 This week: Occupational health and safety hearings — the real sign that porn's gone mainstream? iPhone cam girls now need to find a new line of work — Google Chat cam girls, perhaps? Small, hick town in Florida hates porn as much as they love crystal meth.
Hey kids, be glad you were born now, with your porn on the internets. If you were born 50 years ago, you'd get your rocks off with porn novels — and it's not like they made Cliff's Notes for them.
iPhone cam girl service goes bust. CEO blames slow uptake of FaceTime. Never mind about charging $4 a minute in a lousy economy, where $240 an hour buys the time of a half-decent hooker (or so I've been told).
What I want to know about this whole Weiner thing is how TV news reporters can mention the congressman's name without losing it and uncontrollably laughing.
CalOSHA is shocked — shocked! — that porn stars are emotional when their livelihoods are at stake.
Porn stars chime in on the new CalOSHA regulations. I have no doubt that guidelines from an occupational safety government organization would be all about hot, sweaty fucking done in pressurized hazmat suits.
There's a very good chance, though, that there might not be an industry for CalOSHA to regulate if the distributors keep on closing.
Your Week in Porn Parodies: "No Es" is the new "This Ain't."
Big bust performer Kimberly Kupps busted with her husband for making a porn movie in Florida. Never mind about all that content being shot in Miami…
Sheriff who busted Kimberly Kupps vows to lock up pornographers. Reelection year? Most likely.
Court documents detail the history of '70s porn. To no one's surprise, guys who sound like second tier characters on "The Sopranos" were the true innovators of porn, not free love hippies.
What's new in Juliland.com: Former March jGrrl Aiden Ashely, of EvilAiden.com, and myself — your current June jGrrl! — are featured in all new Fotoland sets and a Movieland movie. Also this weeks guest with Lexi Belle on 7 Minutes in Heaven is the sassy Ash Hollywood. Last months jGrrl Kortney Kane makes a visit to Movieland with KK6. JOIN us to see it all 5 days a week at Juliland.com!
And don't forget: BobbiStarr.com — the only source of porn you'll ever need.