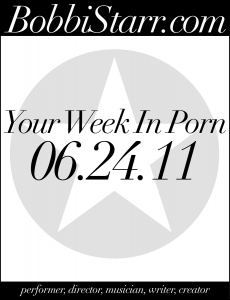 Hey kids, take in and enjoy the majesty that is this week's Your Week in Porn. It's the last one like it, and next week we unveil Your Week in Porn v2.0.
This week: Have you wondered what kind of underwear the women of Doctor Who wear? This guy has. People read the Suicide Girls comic just for the storyline. Speaking of publications people make excuses for reading, Playmate ditches nuptials to Hugh Hefner.
Court rules a woman can watch porn and masturbate at work — and lives nowhere in the San Fernando Valley.
Someone needs to tell this Chinese girl that an iPhone 4 isn't worth her virginity…especially since there's only a few more months until the new iPhone comes out.
A filthy mind is a creative mind. Do you think Pat Boone is ever going to be on any Internet lists worth a damn?
The Suicide Girls comic book is apparently the new Playboy. Or is that the Suicide Girls "graphic novel"? (Seriously, though, I didn't know there was a Suicide Girls comic.)
If you like sexting and you like cybersex, you probably shouldn't get married. At least, your shouldn't get married to someone who's into all that monogamy stuff.
It's a good thing the Internet wasn't invented in the Victorian Age. It would be a definite downside to steampunk.
Doctor Who fan collects the panties of its female cast and crew. Surprisingly, he is not Japanese.
Between the gigantic penis and the nude Russian female divers, it's good to be a whale.
The soon-to-be Mrs. Hugh Hefner comes to her senses, decides she'd rather not marry someone older than her grandfather. Hef cashes in on publicity, wins either way.
What's new at Juliland.com: In Fotoland Bridgette B in one can't-miss-sexy set. Yours Truly, the June jGrrl of the Month, in an all new foto set and in the must see movie, STARR4.  Get a behind the scenes peak into the fun we have making art just for you in Episode 4 of JulilandTV's SNOG&SHAG staring moi!  This weeks guest on 7 Minutes in Heaven with Lexi Belle is the wonderfully adorable Tori Lux.  Remember Juliland.com has updates 5 days a week and is always fun!
And don't forget: BobbiStarr.com — the only source of porn you'll ever need.