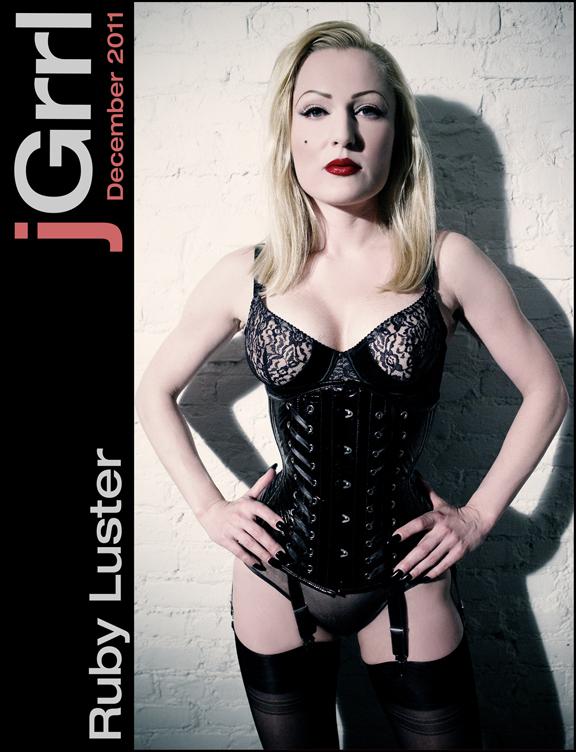 Our new December jGrrl is the one and only Ruby Luster, a knockout fetish model that originally hails from Poland.  Quite the smarty parts, Ruby is able to speak, read, and write fluently in both German and Polish.  She tells us candidly, "My family moved to upstate New York when I was seven, and even at that age, I was into fetish and pinup.  In fact, I've been performing and photographing myself in fetish and pinup imagery for the public to view for over a decade!"
But what we really want to know is, who exactly is Ruby Luster? "Ruby Luster is my alter ego, I suppose.  She is the woman that embraces her innermost desires and is able to express them without any reservation.  This includes a broad spectrum of intricate fantasies that she expresses in her work of erotic, fetish, pinup, glamour and fashion photography."  No wonder, Richard Avery and Ruby make magic when they get a camera between them – the two of them both agree that one photo can be worth a thousand words.
When looking at images of Ruby in her many corsets, garter belts, and stockings, that statement couldn't be closer to the truth.  "What I love most about corsets is their ability to celebrate the feminine physicality.  I love how a corset can emphasize my breasts and hips, as well as the self-discipline it requires to wear one.  It's no easy task!"
As Ruby beings to take off her layers of lingerie, she also divulges some of her most cloistered thoughts.  "Believe it or not, I love doggy style the best because I can leave looking the same way I came in – perfect makeup and hair."  And if she could have it her way, she'd shag Elvis Presley in the drop of a hat.  "I'm not sure if he was well endowed, but nonetheless, I'd get all over that!"  Honey, I think if we all had the chance, we'd get on that too.