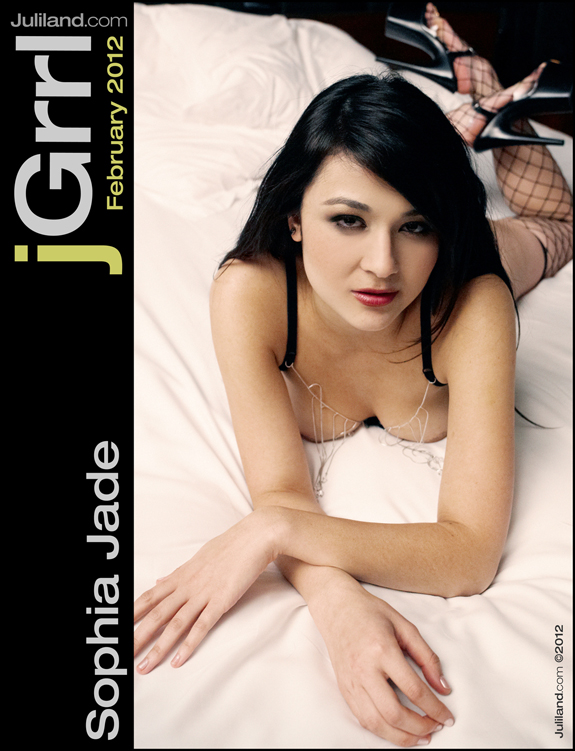 Cupid comes early this year with a gift that just keeps on giving, our new February jGrrl, Sophia Jade!  One of the youngest grrls in the Juliland Universe, Sophia is a very eager and ready to try all that comes her way.  Hailing from the Bay Area, Sophia made her mark in the adult industry just a year ago by being a young submissive on the rise.  I suppose it comes as no surprise then that she enjoys watching gang bangs in her spare time!  But when it comes to men and women, Sophia's opinions are a bit more complicated…
She tells us that while she prefers boys in her personal life, she understands how amazingly crazy a grrl can be.  "Women are so soft and beautiful, but they can also be too catty. I love doing both men and women, but I couldn't see myself getting actually serious with a girl."  That being said, Sophia is still very much surrounded by the truly incredible grrls of the Juliland Universe.  Every encounter, every sexscapade, and every kiss has allowed Sophia Jade to learn more about herself.
But despite her age, Sophia is already very aware of her love for being dominated.  "I haven't really been tied up and fucked at the same time.  But I do love being in bondage and forced orgasms, and I've used cuffs in my personal life.  That was pretty wild and freaky."  But as our February jGrrl, you'll be able to Sophia Jade getting those forced orgasms and a ton of other saucy scenes all shot by Richard Avery!