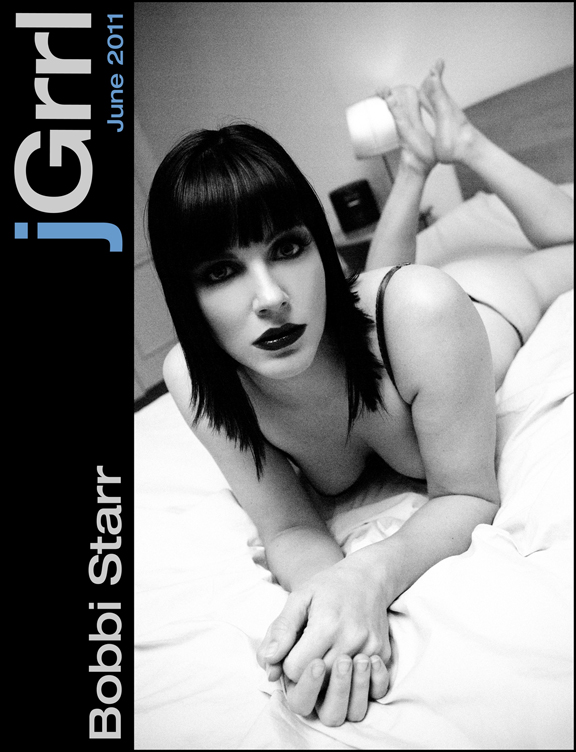 While Bobbi Starr's no stranger to Juliland.com, she always lights up the set when comes to our secret lair. It was only a matter of time before this California Grrl stepped up as Grrl of the Month. With her sunny, yet bitingly sarcastic, disposition, June seems appropriate for this hardcore all-out performer.
Bobbi takes to videos as easily as she does to stills. She's no stranger to how we do things here at Juliland.com, and she comes back because the of the, "amazing quality and original creativity reflected in everything Richard Avery does." There's really no wonder why this girl is going far in her X-rated career, is there? We love Bobbi because of the 110 percent she gives in every scene, always with a smile — unless we need her to scowl!
But this is no one-trick porno pony. Bobbi's been busy collecting awards this year from the X-Rated Critics Organization for Orgasmic Analist, which I'm sure you'll see in our upcoming sets, and she also had the starring role in "A Little Part of Me," which won a Feminist Porn Award in Toronto. She'll also be seen in the upcoming mainstream movie "Drive," directed by Nicolas Winding Refn, who just won best director at the Cannes Film Festival. Bobbi's also a multiple AVN Female Performer of the Year nominee, former Most Outrageous Sex Scene winner and XRCO's Superslut.
Saying that we're lucky to have her as our June Grrl of the Month is an understatement!