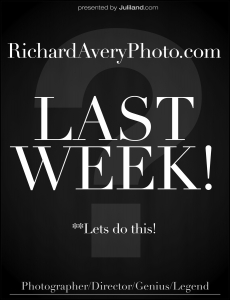 Wake the fuck up!  We have 8 days left in our Seed&Spark campaign.  We NEED your help now!  No more fucking excuses.  Its time to man up and do it NOW!  Go to our SeedAndSpark.com page NOW and donate!!!  Stop what ever you're doing and just do it!  Right fucking now!
Our goal is a 150k and we are far from it.  We need everyone to step up their game today and help us make this number.  IF you JOIN us this week you will get even more than ever!  Starting today… We are DOUBLING ALL our print incentives!!!  That means you get twice as many prints with every donation.  Instead of one, you get two!  Instead of five you get ten!  Instead of ten you get twenty!  How fucking cool is that?  Seriously you can have your own collection of Cuffaro's Greatest Hits!
So, please go to SeedAndSpark.com NOW and DONATE to be a part of this exciting project.  Just do it!
Share #GreatestHits on Twitter | Share Greatest Hits on Facebook