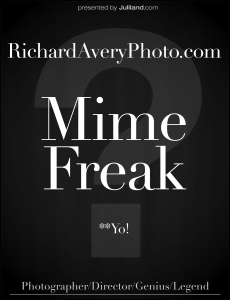 YO!  What the fuck is up mutha fuckers?!?!  Wake up the fuck up Freaky Crew!  I wanted to write a simple post about my friend MimeFreak.  Times are changing and the sad news is we are parting ways.  Why?  Simply this… As you can see I'm cutting back and trimming down the Juliland Universe.  NOT easy or fun.  The good news is that everyone understands.  The better news is my friend MimeFreak totally understands and supports my decision.
MimeFreak and I go way back.  I've been a fan for a long time and really believe in him.  He has a unique perspective on porn and a lot of raw talent.  2 years ago I told him I would help with his blog and help him grow.  Well, he's done that and more.  He's the big Kahuna at ArchAngel Video and making some crazy movies every month.  He's just getting started and I know things are going to get freakier for sure.
I've told him from day one to listen and learn.  I believe in him.  I know he loves his work and has a passion for creating it.  Thats half the battle, the hard part is getting people to see your vision and help you with it.  I know he will be fine without me.  I know WE will be friends for life.  I know I will always have his back and he will have mine.  To my freaky friend… THANK YOU!