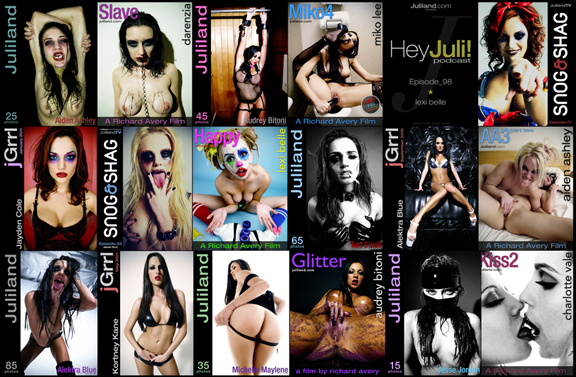 Welcome to the new and improved Juliland.com!  It's been a lot of work and a lot of time, but here it is. A team of experts got behind the idea that it was time for an upgrade in every way possible. So we all sat down and put our sick little minds together and came up with this! Not only does it look better, it works better.  NO more confusion. It's bigger, better, cleaner, meaner, nastier and of course fun!
Some of the highlights are right in front of you, but here's few that we love… You can now rate your favorite foto sets & movies and save your favorite sets. There's also BIG thumbnails, a sassy new blog with a free podcast, a search engine that will help you find what you are looking for and most of all, Richard's work can be seen better than ever.
Another big addition is JulilandTV, starting with our first show Snog&Shag.  This is our behind the scenes show where you get to see all the fun that goes on with the grrls & Richard. Every month there will be a fresh episode just for you, and this month we have 3 starring Jayden Cole, Alexis Ford and April jGrrl Nicki Hunter! Boo ya!
One of my personal favorite new features is the forum. Once you join, you'll be in the know for all things Juliland!  Since our world is growing with the likes of Bobbistarr.com and JulilandTV, you might wanna lets us know your thoughts and ideas.  As long as they are sick and fun we will listen.  We have so much more in the works and we promise you will love it all.  The one thing that we all believe in is to have fun, be entertaining and look good doing it.  That's what the new Juliland.com is all about!
Don't forget to follow us on Twitter and check this blog regularly for the latest news.  Also keep an eye on our grrl Bobbi Starr at BobbiStarr.com.  Thank you for joining and if you're not a member — wake the fuck up!  JOIN NOW!