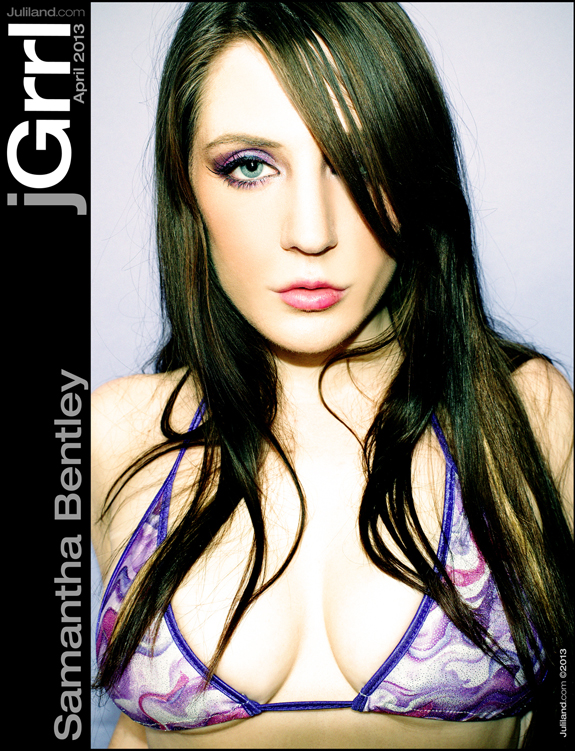 Starting her career in 2011, Samantha Bentley made her mark as one of the best foreign imports since Belgian waffles.  Staring in major titles like Young Harlots Highland Fling, Brooklyn Lee: Nymphomaniac, House of Sin, and Lush 3, this fairly new adult star has already taken home an AVN as well as the heart of Richard Avery.  According to the boss himself, it's her British accent and witty remarks that makes Samantha oh so charming.
While the United Kingdom is technically her permanent home, Samantha finds herself traveling frequently for jobs, conventions, and music.  When she's not upstaging the other talent or hanging with her adorable pug, Fang, you can find her singing and song writing in her spare time.  Can you say Renaissance woman?
As her career is primarily grounded in adult features and stills, Samantha finds it incredibly difficult to find a film free of her friends and mates.  For that reason alone, she prefers amateur porn (I suppose that's the price you pay when you become a porn star)!  But, being a rising adult star is not all bad.  Samantha tells us, "On my good days, I love the fact people see me naked.  I'm basically getting paid for being an exhibitionist.  It's my way of saying, 'Hello everyone, I'm naked, I'm hot, FUCK YOU!!'  I'm doing it the right way!"
Follow Samantha on Twitter!