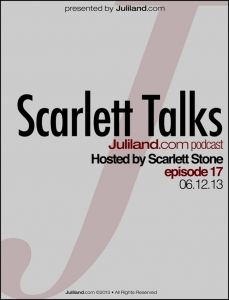 E17: Civilian Boys, Ash Hollywood & Threesomes– PART UNE
While Scarlett Stone has always been the eyes and ears of Juliland.com, she is finally now the voice of our very special Universe as well!  You may have stumbled upon her clever articles about sex, toys, adult content, and men, but you've never actually listened to her speak about these issues.  Well, now is your chance to truly hear her voice and her opinions in Scarlett Talks Season 2!
In this episode, three civilian boys are thrown into the lions' den, otherwise known as a podcast with Ash Hollywood.  After meeting their first porn star up close and in the flesh, Scarlett begins the discussion talking about every man's fantasy: a threesome.  Why are we so fascinated by them?  How exactly do they occur?  And why are they called "unicorns" by the porn world?  Find out the answers here!