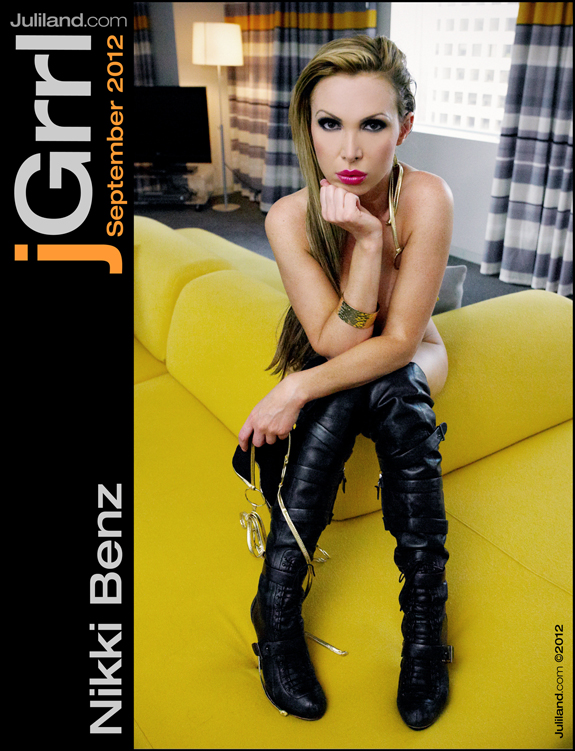 Born in the Ukraine and raised in Canada, Nikki Benz is happy to finally call Los Angeles her permanent home.  Since her move to California, Nikki has developed an overwhelmingly large and supportive fan base in the adult world, and as a result, she's landed notable honors such as 2011 Penthouse Pet of The Year.  Needless to say, she has quite the impressive resume.
With a strong foothold in the industry for almost nine years now, Nikki tells us that she loves the freedom that accompanies her job.  She explains, "I get to travel, be my own boss, and my fans are amazing!  Because I'm a 'porn star' I've gotten to meet a lot of great and interesting people.  Lot's of great experiences."  In her quest to rock the socks off of men and women alike, Nikki has developed a uniquely resilient relationship with Dick Avery.  Unlike anything she's ever done in the past, Nikki describes her days at the Juliland Lair as "artistic, edgy, twisted, and dark – Richard makes my day better just by willing to shoot me.  He is my happy pill."
More than just a down to earth girl who can make you laugh and smile, Nikki Benz is a fun box of trouble.  She tells us, "I can be trouble because I love that rush, that excitement.  I'm an adrenalin junkie and I'll do almost anything that brings me excitement.  Scuba diving.  Let's go!  Sky diving.  Let's go!  Running across the street naked in South Beach.  Let's go!"  It's her go-getter that we love so dearly about Nikki Benz, and we hope she continues to thrive as and adult star for years to come.