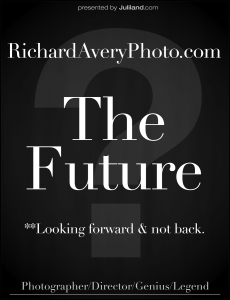 Nobody knows what the future holds, but I do know what I want my future to be.  I want a healthy and happy life.  The only way this is going to happen is if I make some changes to everything in my life.  As you know I started just that.  There is more change coming, but for now I want to talk about my future and Juliland's future.
My future is simple… Work less, have more fun and stay healthy.  I'm looking for a book deal.  I think its time that I share my work in a hardback form.  I think I have enough material for many books, but lets start at one.  Also I'm working on my first exhibition and I hope it will be the first of many.  I really want everyone to see my work the way I vision it… BIG!  I love large prints and when you see the photos big you understand why I love what I do.
The Juliland future is a bit fuzzier.  I have lots of ideas, but just not sure how and when I will execute them.  I know what I want, I just have to figure out how to get there.  No matter what happens it will be for the best.  I just need to scale back and get back to having fun.  The future is always bright, just how bright and for how long is the question.  Thank you.