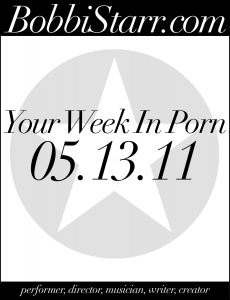 This week: It's not a public spectacle without a Vivid contract offer — and the royal wedding is no exception. Fleshlight shatters the rules of logic and logistics, sends a case of pussy imitations to a secret military unit. Someone really needed to turn on the spellcheck when they came up with the title for "Rezervoir Doggs."
Remember that French kissing machine the Japanese came up with last week? I give you the SPERM COLLECTOR. The horror of our future robot overlords is now complete.
Now that porn stars are running amok in "independent" horror movies, the new hotness will be porn stars in Merchant Ivory period pieces. Mark my words.
When someone religious has sex, they talk to god and Jesus. When an atheist has sex, who does she talk to? Ask Ellen Beth Wachs.
Fleshlight sends a case of its signature masturbatory product to SEAL Team 6, the super secret unit that killed Bin Laden. Between the super secret part and the fact that SEALs get more pussy than a pet adoption, that makes perfect sense.
Like the Cylons, the Free Speech Coalition has a plan (though it's not about destroying humanity).
Oh Utah. You never fail to remind why no one would ever go to Salt Lake City voluntarily for a vacation.
Your Week in Porn Parodies: "Rezervoir Doggs," as described in the press release: "Six perfect strangers are set to pull off the perfect crime. There is one small problem—a monster double cross." The parody is in the title — and only the title — apparently.
Steve Hirsch inserts himself into the whole royal wedding thing. The press release offering a Vivid contract to Bin Laden's wife is forthcoming, no doubt.
They grow those goats real pretty in Florida. So pretty, in fact, they needed to pass an anti-bestiality law. Makes you wonder what's wrong with the women in that state…
What's new at Juliland.com: May jGrrl Kortney Kane appears in an exclusive photo set and movie!  Yummy!  Ash Hollywood shows up in a Fotoland set and Kayme Kai gives you a close-up view in her Movieland movie.  Check out Episode #2 of 7 Minutes in Heaven with Lexi Belle!  This weeks guest is the sexy Angel Vain.  Juliland.com updates 5 days a week!  JOIN and see it all.
And don't forget: BobbiStarr.com — the only source of porn you'll ever need.