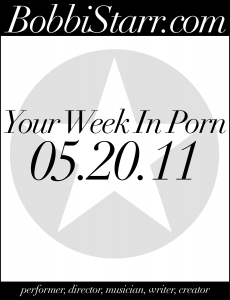 This week: The big V says "Yes, yes," to contract girls (again). That Bin Laden "parody" you've been waiting for? It's on. Oh, you weren't waiting for it? ExtenZe, apparently, works. Who the fuck would have thought?
Poobahs of good taste Girls Gone Wild crowns the "Drunkest Sorority Famewhore in America" "Hottest Girl in America."
Lars von Trier claims Kristen Dunst and Charlotte Gainsbourg are ready for their hardcore close-ups. Que the inevitable publicity grab from porn companies in three, two, one…
Navy SEALs find porn in Bin Laden's Pakistan hideout, probably in his sock drawer. No word on whether the recent rash of TSA pat-down parodies were part of the stash…
…or when the "This Ain't Bin Laden XXX," is going to be made. Oh wait, right now. After all, if a terrorist's crazy, intolerant view of religion that's cost the lives of thousands of US  citizens isn't sexy and hilarious, what is, right? Right!?
Vivid gets back on the contract girl bandwagon. She joins the illustrious company of other women the company's offered contracts to, like Octomom.
Scantily clad woman steals tow truck, makes for the most exciting police chase since Al Cowlings and OJ Simpson turned the spectacle into an acceptable sport for Angelinos.
FDA warns consumers about fake ExtenZe. Wait, if there's a "fake" ExtenZe, does that mean that shit actually works?
Brookstone to sell vibrators next to their massage chairs. Strangely, that pairing makes sense.
Your week in porn parodies: Presidential sex scandal spoofs. It's like "The West Wing," only — actually, scratch that. It's nothing like "The West Wing."
Japanese turn Facebook pokes into the real thing. Between the virtual kissing machine and this, it's like the '90s teledildonics craze all over again…which is not a good thing.
What's new in Juliland.com: May jGrrl Kourtney Kane has a foto set and a new exclusive movie.  January jGrrl Jayden Cole delivers the goods in Fotoland with a hot foto set.  Rebecca Blue makes a nasty visit to Movieland with her special touch.  AND of course another exciting episode of 7 Minutes in Heaven with Lexi Belle!  Lexi's guest this week is the gorgeous Heather Vandeven.  JOIN Juliland.com and see it all 5 days a week!!!
And don't forget: BobbiStarr.com — the only source of porn you'll ever need.