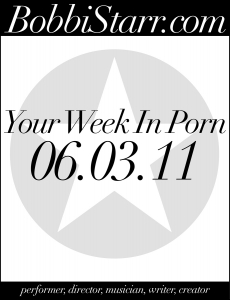 This week: YouPorn makes an offer on chez Charlie Sheen. Really YouPorn? Was that your best idea for a publicity grab? Like its privacy policy, Facebook is schizophrenic when it comes to an anti-porn page. Why yes, I *am* June's Juliland jGrrl of the month. See how easy the rolls off the tongue?
YouPorn makes a bid to buy Charlie Sheen's mansion. World yawns in a collective fit of obviousness.
The wrestler formerly known as Chyna looks to make another porn movie. There's a joke about her being more manly than any men she'll be with in the movie, but I'll leave that to you.
Nintendo pulls Dead or Alive: Dimensions in the EU over potential porn fears. Read: potential porn fears over computer generated characters.
F. Scott Fitzgerald was right. The rich are not like us. They watch a lot more porn, apparently. Well, then again, maybe they're not that much different.
Your week in porn parodies: Bridesmaids. Well, that was quick.
Fleshlight to produce toys based on Digital Playground's "Pirates" movies. No word if the toys will be period-accurate and be pubic lice- and syphilitic-ridden.
Anti-porn page pulled from Facebook (yay!) then reinstated (boo!). How much do you want to bet all the members on that anti-porn page are into stuff that's illegal in every state?
The bad news: there really isn't a nude video gaming movement sweeping New York City. But there should be. Then again, I'm sure this is something a bunch of hipsters are doing in Silver Lake, albeit ironically.
Are these fake boobs for play or they as mousepad? Dare I ask, why can't they be both? Considering that PCs are little more than porn delivery systems, there's no reason why they can't have a dual purpose.
This is the best June of your lives. Why? I'm Juliland's jGrrl of the month, that's why.
What's new in Juliland.com: Kourtney Kane, Rebecca Blue and moi in all-new Fotoland sets!  See me with Lexi Belle in another episode of 7 Minutes in Heaven with Lexi Belle.
Also, don't forget to check out the latest addition to Juliland's family, EvilAiden.com, the home of Aiden Ashley!
And don't forget: BobbiStarr.com — the only source of porn you'll ever need.