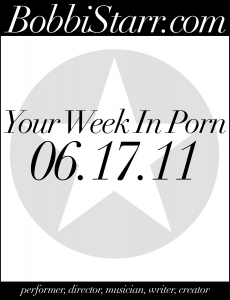 This week: Ewoks gone wild. Middle aged men still pretending to be hot women on the Internet. Politicians in New York tackle the hard choices of the day, decides that lap dances are subject to sales taxes.
Forget everything you know about tree-hugging, Gaia-loving hippies. Apparently, they're hot, photovoltaic bikini-wearing models, not patchouli-smelling, dreadlock-wearing political science majors.
Embarrassing: having your login and password hacked on Pron.com. Priceless: comparing those logins and passwords to Facebook, and if they match, letting everyone know about your porn watching habits.
Yub nub means "sex offender list" in Ewok, apparently.
Our long national Weiner nightmare is over.
Hot Syrian lesbian on the Internet exposed as a middle aged American man. Wait, what is this, 1995?
Men like attractive waitresses with big breasts, beer in big mugs and big screen TVs. Someone should tell the juice bar with the ugly, small-breasted waitresses and the 19″ TV down the street why they're doing so badly.
Speaking of breast-themed restaurants: Catholic charities are as uptight as you think, nixes fund raiser at Hooters.
Render unto Caesar: New York demands strip bars collect sales taxes on lap dances. The most interesting thing about this article — "expert on the art of exotic dance" is a real job.
Juliland.com jGrrl and 7 Minutes in Heaven w/ Lexi Belle host Lexi Belle plays hostess at an Apple World Wide Developer Conference shindig.
Tennessee law outlaws distressing images. There's a joke in there about this law ultimately outlawing Tennessee, somewhere.
What's new in Juliland.com: Check out Ash Hollywood in a new Fotoland set!  Your June jGrrl of the Month — moi, Bobbi Starr — in all new photo set and movie called STARR3. This weeks guest on 7 Minutes in Heaven with Lexi Belle is Katie St. Ives.  Last, but not least… Aiden Ashley stars in AA7 in Movieland.
And don't forget: BobbiStarr.com — the only source of porn you'll ever need.