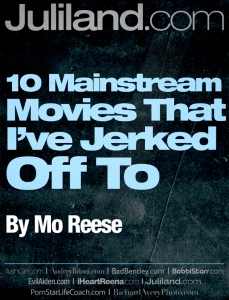 Over the years there have been times when a scene in a mainstream movie was so hot that I had to jerk off to it. This was especially true when I was in High School & porn was in short supply.  Here are 10 mainstream movies that I've jerked off to:
1. Basic Instinct – I masturbated to scenes in this movie many, many times my Sophomore year of High School.
2. Under Siege – The scene where Erika Eleniak pops out of the cake & shows her tits. It may be short, but I rewound that part quite a few times to get the job done.
3. Body Of Evidence – Two scenes in this movie that I jerked off to, the bedroom scene with candle wax, and the garage scene with the broken glass on the car hood.
4. Road House – Another short one that was rewatched many times in a row was the one where the bouncer was banging the chick in the storage room.
5. Barb Wire – Watching Pamela Anderson her get hosed down with her tits hanging out really did it for me.
6. Requiem For A Dream – Ass to ass!
7. Showgirls – Yes, the pool scene. Don't judge me.
8. Poison Ivy – What can I say, I had a thing for Drew Barrymore in the 90's, and the scene on the car was hot.
9. The Brown Bunny – The movie is absolute shit, but I enjoyed myself watching Chloe Sevigny suck cock.
10. Irreversible – Monica Bellucci gets anally raped. Trust me, I'm not the only guy that's jerked off to that scene.
Courtesy of Mo Reese – TheAverageMo.com
Follow Mo on Twitter!