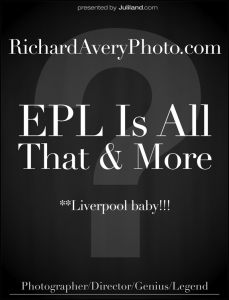 As you know or may not know I love futbol (soccer for you americans).  In the last 10 years I've learned to love it more and more.  I love the MLS because its getting better year after year, but I love the EPL the most.  Not just for the game itself, but more for the culture & everything that goes on around it.  Here's 10 things I love about the EPL (English Premier League for you losers)…
Liverpool FC – so far a brilliant season.  Love Luis Suarez & Daniel Sturridge big time!  I hope they win it ALL this year!
Manchester United – a down season, but there are many reasons for that, so don't blame everything on David Moyes.
The Language – its the words that the announcers use to describe the play that makes me smile… "brilliant goal", "absolute cracker" and "magnificent play".
Robbie Earle – love his insight and analysis to the game!
NBCSN – thank you for bring it to me and doing a great job!
Wayne Rooney – great player!  When he's on, he's on!
Rebecca Lowe – she leads the show every weekend and does it with style & class!  Go Beck's go!
No Playoffs – I love how they play all these games and whoever has the most points at the end, wins!  Simple and makes teams fight for every point!
The History – enuff said, there is so much history with this league its stupid.
The Players – I'm not saying they're all the best in the world, but I think that have more quality players than any league.
Follow ME on Twitter!!!