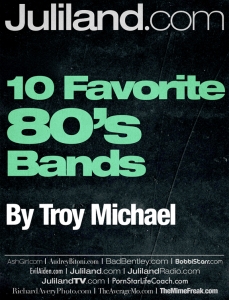 There's no easy way to put this, but the 1980s were a fucked up time. In a decade when "Greed was good," cocaine was like condiment, and pastel clothes were everywhere, looking back, the 1980s were a scary time. But one positive point from the decade of excess was the music. With the birth of videos music channels, the 1980s brought you music which you could actually see. There was pop, rock, hair metal, new wave, no wave, and some other genres I think I purposely erased from my memory.
Culling a favorites list of an entire decade is a pretty hard task, but here we go…
Concrete Blonde – Proving mysterious is sexy and ghosts make intelligent great indie rock
The Cult – Jim Morrison rises from the ashes and rocks British style
The Cure – Goth and creepy before Goth and creepy were cool and oh those sweet melodies.
Def Leppard – Boys from Sheffield reinvent rock & roll and dominate MTV.
INXS – Pure dominance in the 1980s with infectious pop music. Every guy wanted to be Michael Hutchence, every girl wanted to fuck him.
Joan Jett – The Queen of rock & roll period!
King's X – Black man with a Mohawk rocking a trio of metal and Beatles harmonies? Count me in.
Metallica – Trust me kids they were really good in the 80s.
The Pretenders – Chrissie Hynde "Brass in Picket" need I say more?
Soul Asylum – Before "Runaway Train" they were indie rock and rock they did, and still do.
Courtesy of Tory Michael & Innocent Words