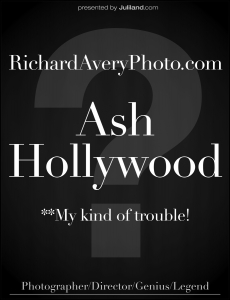 What can I say about Ash, that won't get me into trouble.  The kind of trouble I like.  I wanted to create a simple list of 10 things I love about Ash.  Then I thought that 10 was not near enough.  So I decided just to write my feelings down and share them with the Universe.
I was introduced to Ash by Aiden Ashley a few years ago after an AEE Vegas week.  I just remember how confident and tough she was.  Very hard on the outside, but so soft on the inside.  A heart bigger than the state of Texas!  I remember how I wanted to know more and shoot her ASAP.  Of course we shot, then shot again and again.  Had so much fun we kept on going and eventually I asked her to join my crazy idea for the Juliland Universe.  We created AshGirl.com and the rest is history.  More creative fun, more laughs and more Ash.
On a personal note, she has become one of few people I trust.  I adore all that she is and has become.  She's a hard worker and between you and me, a big softie.  She is truly special and I'm so lucky to have her in my life.  There isn't a day that goes by that I don't think about her and smile.  I know that what ever happens with AshGirl.com, the biz or my Universe… We will always be best of friends.  Lucky me!