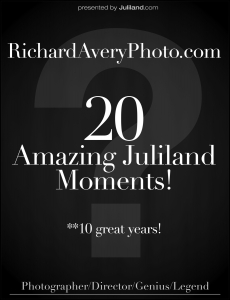 Now that Juliland.com pay site is ending I wanted to take the time to reflect on the last 10 years!  SO much has happened in the last 10 years… Meeting & working with some of the hottest, sexiest and nastiest grrls on Earth!!  I've had more fun than you and the photos to prove it.  Meeting all sorts of new friends that I know I will have for life.  Working with some really talented people!  AND most of all, I created so much crazy art its stupid.  Here are 10 of my favorite moments in no particular order…
Taking an idea and turning it into a Universe – Very proud & grateful.
Meeting Audrey Bitoni! – we've been besties ever since and will be until the end of time.  More fun with Audrey than anyone I have ever known. (got photos to prove it)!
Every shoot that I have ever done for Juliland – too many to count, but they were ALL great and fun.
Meeting Aiden Ashley who introduced me to Ash Hollywood – fuck yea bro!  Ash is family for life & I'm lucky for it!
Meeting Bobbie Starr – best neighbor ever!!!  Family for life!
Creating & producing ALL my podcast shows – Over 400+ episodes & counting.
Meeting all sorts of great grrls who are now many of my best friends! – Yup I'm one lucky fuck!
Producing & directing 7 Minutes in Heaven w/Lexi Belle – She killed it!  A great idea that could have been even better!  Oh well, shit happens!
Meeting Mo Reese – Thanks to Ash for this one.  Mo is more than an average friend.  He's a very good friend.
Meeting Samantha Bentley – so bad and so good at the same time.
Working with MimeFreak – watching him grow as an artist and business man makes me so fucking proud.
Spending anytime with Phoenix Marie – WE always have fun and she scares the shit out of me just the way I life it.
Playing with Gabriella Paltrova – she is an awesome grrl who is so sexy and every time we shot it was magic.  Just not enough!  :-(
First AVN with Juliland.com – NOBODY knew who the fuck I was and did NOT care.  5 years later I went again and everyone knew who I was!!!  Woo hoo!
Going to Hawaii with Audrey – are first trip was crazy as fuck and so much fun.  Will go down as the best trip ever!
Directing my one and only movie for Penthouse – took on the challenge and I think I did a great job thanks to one grrl… Justine Joli.  She made me look good in every way possible.
Meeting and working with Serena Blair, Sovereign Syre, Nikki Next & Reena Sky – ALL great grrls who made me look & feel good.  Plus they put up with my crazy shit!
Hanging out with Ken of KenBrockton.com – he's not only a good friend, but a big help with all my work.  He knows how to party BIG time!
Hanging out & working with Alektra Blue – Never a dull moment!!!
Everything!!! – from the beginning, middle and to the end!!!  Fuck yea bro!