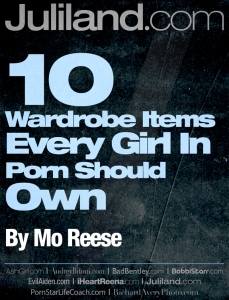 I've been doing wardrobe for a Wicked Pictures Director for over a year now & I've found that many girls are lacking in the wardrobe department. I'm surprised sometimes at the basic things that performers don't bring to set. Here are 10 wardrobe items every girl in porn should own:
1. Pencil Skirt – A simple black pencil skirt works for any business professional role.
2. White Button Down Shirt – Short sleeve for schoolgirl, long sleeve for secretary.
3. Stockings – Get the kind that has silicone at the top, so they stay up.
4. Black Heels – If none of your other shoes work, these will save you.
5. Matching Bra & Panty Sets – Don't buy the bra if you can't find panties to match.
6. Bikini – A few options are good to have, the scrunch butt ones make your ass look great.
7. Belts – Sometimes a belt can really help complete an outfit.
8. Tight Skimpy Dresses – Something that you could wear in public, but just barely.
9. Wife-Beater – A basic white one is always a good go to item if there's nothing else.
10. Accessories – Bracelets, Necklaces, Earrings, they don't have to be expensive to look good.
Courtesy of Mo Reese – TheAverageMo.com
Follow Mo on Twitter!