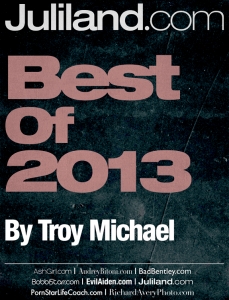 As the editor/publisher of Innocent Words hundreds of new release come to me in various formats, CDs, vinyl, and the dreaded digital download. I try to make it a point to listen to everything that comes across my desk, but sometimes it's hard to accomplish. Compiling a list of those releases into a Top 10 list for look back on the year is nearly impossible. I've never seemed to pick the popular releases which get the most coverage, I tend to go for the lesser known releases. I don't know why this is, it just is. This is the music that moved me, that stood out from the stack of releases. They may not be considered the best by most, but they are my favorites of 2013.
Berlin
Animal
(Something Music)
Iconic 1980's band Berlin returns with their best studio album to date – Animal.
While maintain their groundbreaking synth electro-pop sounds which thrust them to the forefront of an MTV generation, lead singer Terri Nunn brings in her latest musical love – contemporary electronic dance music.
Nunn, who is the sole original member of Berlin, has a solid backing band behind her with Carlton Bost (guitars); Chris Olivas (drums); Dave Schulz (keyboards). She has also brought in a heavyweight production and writing crew with multi-platinum writer/producer, Bryan Todd, as well as pioneering mixers, John Alicastro and Mike Lauri.
Fittingly the title track kicks off the album and is full of raw, passion, lust and dance beats. Nunn's voice is stronger than ever as she belts out wide-range vocals. The sultry blonde vixen keeps you hanging on her every word while enticing you to get up and dances to tracks "Nice to Meet You," "With The Lights On," and "Don't Make Me Regret It."
Where Berlin differed from a lot of the bands from their heyday was Nunn's ability to embrace diversity. Berlin is known for their chart topping ballad "Take My Breathe Away" and Nunn channels that multiplicity again with "Blame It on the World" and "Mom." The two slow songs are heartbreakers as Nunn faces some demons from her past and being a mother in the 21st century.
Animal is a primal album on so many levels. Whether it is sex, passion or standing up to your insecurities, Nunn nails it.
Stone Gossard
Moonlander
(Monkeywrench Records)
A dozen years after his funky first solo album Bayleaf, Pearl Jam guitarist Stone Gossard returns with Moonlander.
The captivating 11 tracks from the album were recorded from 2003-2011. Scouring through his hard drive of old demos and recordings that weren't used as Pearl Jam or Brad songs, Gossard compiled enough material for Moonlander.
With the help of musicians/friends – Matt Cameron (Pearl Jam, Soundgarden), Matt Chamberlain, Regan Hagar (Brad, Malfunkshun, Satchel), Pete Droge, Brandon Harper, Gregg Keplinger, Keith Lowe, Barbara Ireland (The Fags) and Hans Teuber – the songs show Gossard stretching his legs as a solo artist, and most notably his confident singing voice. In addition, the songs come to life with the help of Floyd Reitsma (Studio Litho engineer), Pete Droge (Executive Producer), and Hans Teuber (multi-instrumentalist and long time Hank Khoir collaborator).
Gossard stays true to his love for funky riffs on the opener "I Want Something Different," which contains a blistering soulful guitar lead. The title track is a playful homage to Bowie's Ziggy Stardust-era complete with the bells and whistles in the sound effects. The first single "Both Live" is so infectious you will be singing the chorus ("I gotta go, I gotta swim, I gotta use my fins") long after the song is over. "Your Flames" and "Battle Cry" are two gorgeous slow burners finding Gossard's warm vocals envelope you with his storied lyrics.
"I Don't Want To Go To Bed" starts off slow with janglely guitar strums then catches on with a soaring chorus while "Remain" is a straight-forward story teller ballad. The sleeper hit of Moonlander is the fun, quirky ass-shaking groove of "Witch Doctor."
Moonlander is a journey in funky quirkiness, Americana, pop, rock and jazz musicianship all wrapped in Gossard's unique (and somewhat puzzling) song lyrics. In short, Stone Gossard has hit the mark with this one.
Cami Lundeen
Run Free
(Self-Released)
With singer songwriters a dime a dozen these days it's pretty hard to separate yourself as one of the musicians who deserve to be noticed. Seattle songstress Cami Lundeen proves she deserves a place in this music industry for a long long time with her phenomenal debut 'Run Free.'
The self-released 10-track album is sparse on pretentiousness and filled with hope, passion, introspection and a will to pick yourself up no matter how bad this hard world can beat you down.
On tracks "Not Who You Said You Were," "Not Be Afraid," and "Life Changes You" Lundeen sings of struggles in an intimate and thought provoking nature that you can relate, in fact you have probably been there. Furthermore, "Eyes of a Child," "So Long Insecurity" and "March On" so the punkish attitude of the singer's no-quit attitude. In both cases she sings with conviction, passion and delivers her vocals in a manner which she is singing the words to you, not at you.
The crowning jewel of 'Run Free' is the dark and organic track "The Rainbow." The song is a personal story, a journey of Lundeen, who has been faced with adversity in front of her.  She struggles and she's not afraid to admit it, "even though the water rages all around me, even though the earth is shaking underneath my feet, even though I should be trembling with fear, I have hope, I have peace." That is the beauty of Cami Lundeen.
Mudhoney
Vanishing Point
(Sub Pop)
If you have any doubts that Mudhoney has lost anything over their 25 years of making music, just put in their new disc Vanishing Point, press track 10 and listen to "Douch