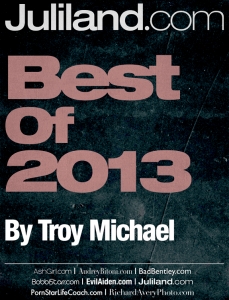 As the editor/publisher of Innocent Words hundreds of new release come to me in various formats, CDs, vinyl, and the dreaded digital download. I try to make it a point to listen to everything that comes across my desk, but sometimes it's hard to accomplish. Compiling a list of those releases into a Top 10 list for look back on the year is nearly impossible. I've never seemed to pick the popular releases which get the most coverage, I tend to go for the lesser known releases. I don't know why this is, it just is. This is the music that moved me, that stood out from the stack of releases. They may not be considered the best by most, but they are my favorites of 2013.
Berlin
Animal
(Something Music)
Iconic 1980's band Berlin returns with their best studio album to date – Animal.
While maintain their groundbreaking synth electro-pop sounds which thrust them to the forefront of an MTV generation, lead singer Terri Nunn brings in her latest musical love – contemporary electronic dance music.
Nunn, who is the sole original member of Berlin, has a solid backing band behind her with Carlton Bost (guitars); Chris Olivas (drums); Dave Schulz (keyboards). She has also brought in a heavyweight production and writing crew with multi-platinum writer/producer, Bryan Todd, as well as pioneering mixers, John Alicastro and Mike Lauri.
Fittingly the title track kicks off the album and is full of raw, passion, lust and dance beats. Nunn's voice is stronger than ever as she belts out wide-range vocals. The sultry blonde vixen keeps you hanging on her every word while enticing you to get up and dances to tracks "Nice to Meet You," "With The Lights On," and "Don't Make Me Regret It."
Where Berlin differed from a lot of the bands from their heyday was Nunn's ability to embrace diversity. Berlin is known for their chart topping ballad "Take My Breathe Away" and Nunn channels that multiplicity again with "Blame It on the World" and "Mom." The two slow songs are heartbreakers as Nunn faces some demons from her past and being a mother in the 21st century.
Animal is a primal album on so many levels. Whether it is sex, passion or standing up to your insecurities, Nunn nails it.
Stone Gossard
Moonlander
(Monkeywrench Records)
A dozen years after his funky first solo album Bayleaf, Pearl Jam guitarist Stone Gossard returns with Moonlander.
The captivating 11 tracks from the album were recorded from 2003-2011. Scouring through his hard drive of old demos and recordings that weren't used as Pearl Jam or Brad songs, Gossard compiled enough material for Moonlander.
With the help of musicians/friends – Matt Cameron (Pearl Jam, Soundgarden), Matt Chamberlain, Regan Hagar (Brad, Malfunkshun, Satchel), Pete Droge, Brandon Harper, Gregg Keplinger, Keith Lowe, Barbara Ireland (The Fags) and Hans Teuber – the songs show Gossard stretching his legs as a solo artist, and most notably his confident singing voice. In addition, the songs come to life with the help of Floyd Reitsma (Studio Litho engineer), Pete Droge (Executive Producer), and Hans Teuber (multi-instrumentalist and long time Hank Khoir collaborator).
Gossard stays true to his love for funky riffs on the opener "I Want Something Different," which contains a blistering soulful guitar lead. The title track is a playful homage to Bowie's Ziggy Stardust-era complete with the bells and whistles in the sound effects. The first single "Both Live" is so infectious you will be singing the chorus ("I gotta go, I gotta swim, I gotta use my fins") long after the song is over. "Your Flames" and "Battle Cry" are two gorgeous slow burners finding Gossard's warm vocals envelope you with his storied lyrics.
"I Don't Want To Go To Bed" starts off slow with janglely guitar strums then catches on with a soaring chorus while "Remain" is a straight-forward story teller ballad. The sleeper hit of Moonlander is the fun, quirky ass-shaking groove of "Witch Doctor."
Moonlander is a journey in funky quirkiness, Americana, pop, rock and jazz musicianship all wrapped in Gossard's unique (and somewhat puzzling) song lyrics. In short, Stone Gossard has hit the mark with this one.
Cami Lundeen
Run Free
(Self-Released)
With singer songwriters a dime a dozen these days it's pretty hard to separate yourself as one of the musicians who deserve to be noticed. Seattle songstress Cami Lundeen proves she deserves a place in this music industry for a long long time with her phenomenal debut 'Run Free.'
The self-released 10-track album is sparse on pretentiousness and filled with hope, passion, introspection and a will to pick yourself up no matter how bad this hard world can beat you down.
On tracks "Not Who You Said You Were," "Not Be Afraid," and "Life Changes You" Lundeen sings of struggles in an intimate and thought provoking nature that you can relate, in fact you have probably been there. Furthermore, "Eyes of a Child," "So Long Insecurity" and "March On" so the punkish attitude of the singer's no-quit attitude. In both cases she sings with conviction, passion and delivers her vocals in a manner which she is singing the words to you, not at you.
The crowning jewel of 'Run Free' is the dark and organic track "The Rainbow." The song is a personal story, a journey of Lundeen, who has been faced with adversity in front of her.  She struggles and she's not afraid to admit it, "even though the water rages all around me, even though the earth is shaking underneath my feet, even though I should be trembling with fear, I have hope, I have peace." That is the beauty of Cami Lundeen.
Mudhoney
Vanishing Point
(Sub Pop)
If you have any doubts that Mudhoney has lost anything over their 25 years of making music, just put in their new disc Vanishing Point, press track 10 and listen to "Douchebags on Parade." The slow burner is brash and ballsy as anything Mark Arm (vocals, guitar); Steve Turner (guitar); Dan Peters (drums); and Guy Maddison (bass) recorded in their humble beginnings.
Vanishing Point, the band's ninth studio album, begins with the beautiful chaos of "Slipping Away" behind the thunderous drum opening of Peters and the steady fuzz rhythms of Turner's guitar. Arm's vocals rage is as strong as it was 25 years ago. When he can't find the words, his guttural grunts fill the space nicely and Turner's feedback-infused guitar drenches the closing.
Other highlights include the Iggy and the Stooges-inspired "I Like It Small," a call out to the little things in life. Where else could you find GG Allin and Long Dong Silver mentioned in the same line? "Chardonnay" is 1:38 of pure punk bliss poking the stick at former 20-something now wine-sipping fakes. The hallmark of Vanishing Point is "I Don't Remember You" a raucous stomper that sends a loud and clear "fuck you" to the wannabes who pester the band while shopping for groceries.
With the Nuggets-era garage psychedelia, stoner rock stomp and Stooges inspiration, Mudhoney's Vanishing Point, reminds us all what rock 'n' roll is supposed to be about – fun. Fuck the bearded guitar crooners and the '90s has-beens trying to make a comeback. This is punk rock, this is Mudhoney.
Newsted
Heavy Metal Music
(Collective Records)
Jason Newsted, the iconic bass basher has made a comeback in a big way. After several surgeries and long bouts of physical rehab, Jason Newsted comes back with his own band simply titled Newsted and the hard and fast debut aptly titled Heavy Metal Music.
Prior to fortune and fame, Newsted was a Michigan native who, like many with rock stardom in their eyes, packed up and left the Midwest with a buddy for California. Landing in Arizona instead, Newsted set up shop and quickly formed a metal band that would go on to become known as Flotsam & Jetsam. Newsted and his boys finally made it to California and the band was one of heavy metal's up and comers with the release of their driven 1986 debut Doomsday for the Deceiver.
Despite Flotsam & Jetsam's promising career, Newsted decided to audition for the vacant bass slot in Metallica and the rest, as they say, is history.
After his departure from Metallica, Newsted formed the band Echo Brain, then joined metal juggernauts Voivod and was part of Rock Star Supernova for a brief period. He also formed the California punk band Papa Wheelie, which gigged up and down the California coast.
Newsted's metal life soon caught up to him in 2006. Due to decades of head banging, not to mention trying to catch an amp head while it fell, the bassist had to have multiple surgeries to repair a torn anterior labrum in his left shoulder and a torn rotator cuff and bicep tear in his right.
During his recovery process Newsted discovered the joy of painting. He worked hard on a number of large original abstract paintings and had his first gallery show on May 4, 2010 at Micaëla Gallery in San Francisco.
The bass icon got back on the horse called music in 2010 when he was asked to be a party of the charity project WhoCares, featuring singer Ian Gillan and former keyboardist Jon Lord from Deep Purple, guitarist Tony Iommi from Black Sabbath, second guitarist Mikko Lindström from HIM and drummer Nicko McBrain from Iron Maiden. Two years later, Newsted announced that he had formed his own band with drummer Jesus Mendez Jr. and guitarist Jessie Farnsworth, and in March of this year Staind's guitarist Mike Mushok officially joined the group.
All the while Newsted was the band's leader, serving as the main songwriter and lyricist in addition to his bass duties, much like his salad days in Flotsam & Jetsam.Newsted-HeavyMetalMusic.
Heavy Metal Music, released on Collective Records, goes straight for the throat with the metal rhythms and guitar driven opening track "Heroic Dose," then keeps the chords churning on the band's first single "Soldierhead," fueled by guitarist Jessie Farnsworth's killer riffage.
Newsted's no stranger to handling vocals as he was a supreme backing vocalist in Metallica, but here, as he takes the lead, his gritty delivery mixed with the throaty howls sound akin to Wayne Static of Static X. Newsted also straddles the line of anger, evil and poetry with his lyric writing especially on the cuts "As the Crow Flies," "Twisted Tail of the Comet" and "Long Time Dead."
Heavy Metal Music is just that—heavy fucking metal. Head banging, fist-pumping anthems such as "Above All," "Kindevillusion" and the showstopper "King of the Underdogs" reign supreme throughout these tracks. At the core of this album is no bullshit, no overthinking, just balls-out having fun making music, and it shows. Newsted as a band is loose, driven and on top of their game on their debut.
Raise the metal horns because this is Heavy Metal Music, this is Newsted!
Palms
Self-Titled
(Ipecac)
Palms are yet another side project from Deftones dynamic frontman Chino Moreno as he has joined three-fifths of Isis, Bryant Clifford Meyer (guitars, keyboards), Jeff Caxide (bass, keyboards), and Aaron Harris (drums, electronics). The band is called Palms and their self-titled debut is everything fans of the two bands could ever hope for. It is a marriage made in heaven for post-hardcore lovers as if this band has played together for years.
With spacey atmospheric orchestrations, Moreno's ghostly singing fits seamlessly into the feel the band has. Gone are Moreno's murderous screams he does in his main bands in favor of earthy airy vocals showing he is one of the most underrated singers in rock. The music has its heavy elements, not as in metal sounds, but more heavy in sonic boldness. The songs are twisted and grim layered textures, shoring cinematic, introspective interludes with tidal waves of distortion.
At six songs you might think Palms is an EP, but with the shortest song clocking in at nearly six minutes and a few 10-minute songs, this debut is every bit a full length. Not one of the six songs stand out, in fact they all blend together quite nicely as one cohesive collection. If you had to pick one song off the album which embodies everything this band is about it would be "Mission Sunset." The song clocks in at 10:18 and leads you through the highs and lows of Moreno's dynamism balancing the tectonic shifts in Palms instrumentation as he howls over Meyer's searing guitar igniting a conflagration when mixed with the propulsive rhythms of Caxide and Harris in its climax.
Palms has a sense of perseverance with the songs like waves full of energy crashing into the shore only to go out and come back doing it all over again.
dUg Pinnick
Naked
(RockArmy Records)
Legendary bassist and frontman of King's X dUg Pinnik returns once again with a solo album simply and appropriately entitled Naked.
With the heaviness of a Tony Iommi riff, the album blows you back immediately with head bobbing funk of "What You Gonna Do." Taking a drastic turn, at least musically, "If U Fuk It Up" is a soul searching song overflowing with emotions, a style Pinnick is known for, but never to this extent. "Courage" is a scattered song with chest thumping bass lines mixed with Soundgarden sludge and Beatles psychedelia.
The synchronization of these songs is an interesting lineup, as no two songs sound the same back to back, yet they do incorporate the heaviness and funk Pinnick is known for.
Case in point, you have the funky jam of "That Great Big Thing," the mellow LSD trip of "The Point," then the teeth rattling low end on "Take Me Away From You," all in order…and it all fits.
Naked is one of Pinnick's finest efforts in his 30-plus-year career. Mixing his iconic sound with the '60s rock and modern heavy metal, he has done something musicians rarely do. Naked is animalistic, Naked is fearless, Naked is meant to be played loud.
Star & Dagger
Tomorrowland Blues
(Cauldron 333)
Star & Dagger is a powerhouse trio utilizing the thunderous groove bass lines from Sean Yseult (White Zombie) with the blistering guitar leads and driving rhythms of Dava She Wolf (Cycle Sluts From Hell). To complete Star & Dagger the two friends brought in the unknown, yet charismatic and soulful singer Von Hesseling. To handle the drums, the girls have brought in Dustin Crops.
Off the heels of their debut 3-song vinyl release In My Blood, the girls (and Crops) have ponied up 10 tracks for their raucous LP Tomorrowland Blues. The albums lead single is homage to the delta blues with "Your Mama Was a Grifter." The songs rhythm is a call and response from Yseult to Hesseling, vocals with She Wolf adding blues busting leads on her guitar. Complete with hand claps and reverbed backing vocals, this single would make Johnny Lee Hooker and Howlin Wolf stand up and boogie.
However, Tomorrowland Blues kicks off with the bombastic bass lines and heavily distorted guitars with "In My Blood." The girls don't let up kicking into the groove metal stomp of "End Of Days" and the head-bobbing rocking title track. "Sidewinding" shows off Yseult while the band shows off their overall heaviness and the fact they throw in a saxophone into the mix is ballsy.
But that's what Star & Dagger is…ballsy. They come off as if they are having a hell of a time and if you don't like it fine but if you do all the better. When LA Weekly writer Lina Lecar called Star & Dagger "The perfect blend of Black Sabbath and Valley of the Dolls," truer words haven't been spoken.
Throwing Muses
Purgatory/Paradise
(Throwing Music)
It's been over a decade since seminal alternative rock band Throwing Muses have put out a record and when they came back, they did it in style.
The band's latest release is 'Purgatory/Paradise' which is not only new, but a 32-track studio album which also comes with a gorgeous hardback book full of lyrics, short essays and stories by Kristin Hersh about each song, and exclusive photographs and artwork. In addition you get a download code for these exclusives:
~ A commentary track featuring Kristin Hersh and David Narcizo
~ An instrumental version of the full album
~ Prepackaged mp3 and lossless versions of every track with embedded metadata, artwork and lyrics.
As an album, 'Purgatory/Paradise,' which takes its name from an intersection in Hersh's Rhode Island hometown, is an exquisite collection of music from one of music's finest songwriters and fellow Muses drummer David Narcizo and bassist Bernard Georges.
Hovering around the two to three minute mark, the songs are short bursts, which culminate into one cohesive album. The tracks, much like Hersh herself, are authentic, unrelenting and organic. At 32 songs, you could easily try to break this album down into rock songs and acoustic songs, but after listening to it, that task is virtually impossible. The songs have both elements mixed in. There's even hints at a little blues and retro pop fused in. The tracks "Opiates;" "Sunray Venus;" "Milan;" and "Speedbath" are forceful rockers which ebb and flow between the other tracks. The Muses are at their best and ballsiest when they turn it up and rock out. Case in point, the two best songs on the album – "Slippershell" and "Sleepwalking 1."
Ten years? Hell, Hersh, Narcizo and Georges play so flawless on 'Purgatory/Paradise' it's a/Paradise' took a lot of hard work and finds Throwing Muses once again bucking the conventional in favor of real rock & roll which will last a lifetime.
Torres
Self-Titled
(Self-Released)
Where most would shy away from such raw and intimate topics, Torres (aka Mackenzie Scott) tackles them head on, at time even embracing them like a concerned mother.
The 22-year-old musician, who calls Nashville home, has recently released her debut album.
With moans and sighs mixed in her vocal style, Scott sings of desperation, jealousy and sometimes hopes. It is her voice which pulls you into these songs, if for nothing more, to have you figure out what she is singing about. Is she shy? Is she ok? Is she suicidal? You really don't know until you are wrapped up in her voice like a warm blanket.
As submissive as Scott sounds in her vocals, she pulls it off forcefully, owning these songs much in the vein of Jesse Sykes, Lisa Germano or Pj Harvey.
Musically, the instrumentation lends greatly to Scott's voice. With a minimalism of cello, percussion and strings, the majority of the tracks are based in thinly picked guitars. On occasions she will turn up the amp and make her Gibson 335 sound muddy as on "When Winter's Over" and the fabulous lead off track "Mother Earth, Father God," but it's Scott's ability to attack the subtleness that makes it work.
The reverb-drenched single "Jealousy and I" is absolutely gorgeous in a haunted way and "Honey" comes off like a wound which hasn't healed, but you can't help picking at it. "November Baby" brings back fond memories of the band American Football while "Chains" would make the perfect theme song to a horror movie.
Courtesy of Tory Michael & Innocent Words