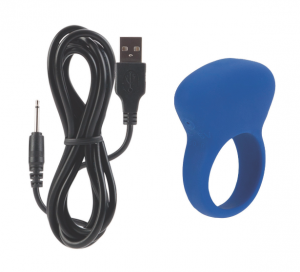 If you ever have the chance to see my hands, you'll notice that I never wear jewelry.  My wrists lack bracelets just as my long fingers are free of jewels and diamonds.  I prefer, instead, to boaster my bare skin, sometimes with the help of vanilla lotion on a dry winter's day.  But despite my absence of ornaments, I am forever more of lover of rings – cock rings, that is.
I can remember my first cock ring like it was just yesterday.  I was a younger Scarlett Stone too shy to step foot onto a porn set, let alone a sex store.  I had made the decision to purchase the ring online so I could eliminate the face-to-face contact with the store employee.  Little did I know that having that extra person there to give you some feed back and a kick in the butt was, and still is, the best way to purchase any sex toy.
Online it looked like the ring would fit over my index finger, and I thought to myself, "Hmm, that would be a cute, lil' thing to inconspicuously wear around school."  God, I was such a square!  Not only did the cock ring not fit around my index finger (or wrist), but if I did wear it around school, it would so outwardly appear like a ring that vibrates and goes around a penis.
That fateful day finally came, and needless to say, I didn't.  I tore open the brown paper box and there it stood – the penis ring I had waited weeks to receive.  It was see-through pink with sparkles and ribs, just what a penis would want to wear, right?  No.  The penis put it on and it sort of just awkwardly fit near its base like a Sunday's Best Hat.  It was both unsexy and unreliable.  I came to realize that for myself, I needed a stimulation that was relentless, hard, and fast, a perfect combination that I infrequently find with cock rings.
What most people don't realize is that in order for a female to feel the full impact of a cock ring, she basically needs to sit or ride the product for an extended period of time.  A typical pounding of a penis in a back and forth motion will not do the trick because you're essentially producing the same effect with the attached toy – fast and short touches to the clitoris.  For many, this method can and does work wonders.  For others who are connoisseurs with a vibrator and special agents with a dildo, you may need an extra push to get you going.  If that's the case, then join the club.
When purchasing a cock ring, you can find yourself among a cornucopia of sizes, shapes, colors, silicones, vibrations, and pulsations.  For these reasons, you need to be both selective and open to all products, even if they are out of your price range.  Sometimes the best toy that's meant to be yours is expensive.  That being said, I can guarantee you that it will last you much longer and have a higher vibration and case count than a cheap toy that looks like a Barbie accessory (or in my case, a Sunday's Best Hat).  And when you're unsure of what the pulsation will feel like against your genitals, place the vibrating product at the tip of your nose – the nerve endings there are the most similar to your clitoris and will give you a comparable sensation.
I truly believe that when it comes to your sex life, it's not always smart to look for the best deal.  Clearly, my quest for a simple cock ring gave me just that – a simple cock ring, no more no less, no orgasm, might I add.  In fact, it wasn't till recently that I fell into a very strong, very committed relationship with Jopen's Ego 2.  If its bells and whistles don't scream out 'top quality,' then perhaps my consecutive orgasms will…   
Premium Silicone couples pleasure rings
Superior support for him with stimulation for a partner
Rechargeable
Complete charge in 3 hours
Premium rechargeable lithium ion battery
Unscented, non-porous, hypoallergenic
Satin finish and virtually seamless
Intense incremental speed control
Whisper quiet
Instant on/off button
Security travel lock
LED indicator light
100% waterproof
100% Silicone
Powered by PowerBullet®
Universal USB cord included
One year warranty
Yours truly,
Scarlett Stone
Follow Scarlett on Twitter!