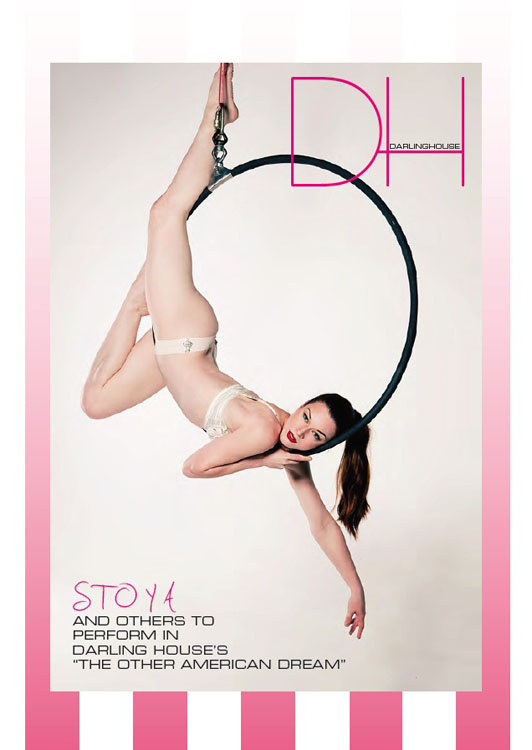 New York — Darling House presents The Other American Dream, a remarkable evening of performance, discussion, and art. The event will be held at Galapagos Art Space on the evening of Monday, December 3, 2013. Doors open at 8 pm and the show begins at 9 pm.
The Other American Dream is a night of burlesque, acclaimed nude photography, music, magic, and more in celebration of figures on the frontier of New American Sexuality, a cultural Wild West where straight, gay, traditional, polyamorous, vanilla, and kinky citizens find common ground of acceptance of a new and more integrated definition of our sex lives.
The evening will be emceed by Bastard Keith, who also frequently hosts the Floating Kaberette at Galapagos, as well as many other burlesque events in New York City. The Other American Dream has three major components, The Revue, The Salon, and The Gallery.
• The Revue: A stage show headlined by an aerial performance by Stoya and featuring burlesque by Madame Rosebud and Stormy Leather; music by the Reformed Whores; magic by Eric Walton; standup by Brandon B; and an Exposé on Real-Life Pirates & Pornography by J. M. Darling.
• The Salon: A live interview hosted by Sovereign Syre with the most fascinating figures in Frontier Sexuality: Buck Angel, Lux Alptraum and Stoya.
• The Gallery: A one-night art show highlighting the work of the country's leading erotic photographers, including Nathan Appel, Richard Avery, Bob Coulter, J.M. Darling, Dastardly Dave, Otto von Erotica, Natasha Gornik, Haus of Se7en, Kencredible, Dave Naz, George Pitts, Corwin Prescott, Steve Prue, Collin J. Rae, Holly Randall, Nate "Igor" Smith, Tony Stamolis, Viva Van Story and others. Prints of their celebrated works will be available at an amazingly affordable one-night price.
• Plus: Sexy surprise raffle, photo booth, and a kissing booth
Darling House is the lovechild of photographer J.M. Darling , Sovereign Syre and innumerable talented contributors. It is a website featuring the work of pioneers in the New American Sexuality and is now producing cabaret events, of which this show is the first. It will also soon publish an eponymous print magazine.
The Other American Dream is generously sponsored by Whore! magazine, Masque, Crystal Delights Toys, and the Pleasure Chest.
Galapagos Art Space is located at 16 Main Street, Brooklyn (DUMBO). Admission is $20.
Advance tickets are available through TicketWeb (www.ticketweb.com).
More info? www.DarlingHouseEvents.com
The Other American Dream,
Galapagos Art Space, Brooklyn
Monday, December 3, 2013, 8 pm
Contact: Joshua Darling
jmdarling100@gmail.com
More info? www.DarlingHouseEvents.com[/fusion_builder_column][/fusion_builder_row][/fusion_builder_container]