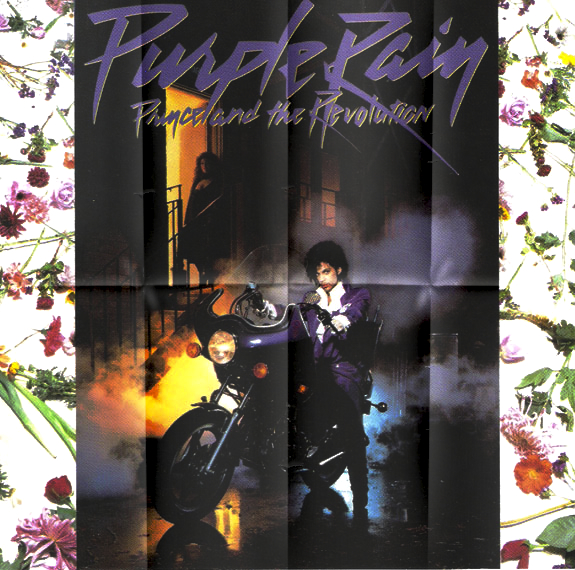 When I was 12-years-old my first cassete was The Go Gos Vacation. This was a major turn after my early flirtation with my Kiss records (see previous blog http://www.innocentwords.com/Blogs/tabid/803/EntryId/81/You-Wanted-the-Best-You-Got-the-Best.aspx). But damn it, I couldn't help myself. That song "Vacation" was so cool and the band was five girls. For a kid who loved music on the cusp of his teens, this was just magical.
Then one weekend my cousin, who was a decade older than me, was in town from Indianapolis. I was playing that Go Go's cassette telling her how much I loved it and she brought in her cassette collection from her awesome canary yellow Camaro (with T-Tops of course) and handed me a cassette with a purple cover with strange writing that read Prince 1999. She told me tyo play that, so I did. The first song started and I thought the tape was dragging because it was a slow robotic voice, then the drums and keyboards kicked in to Prince's major hit "1999."
I didn't know what to think…after all I was used to listening to guys in face paint playing loud rock 'n' roll or five sexy girls singing about their vacation. This was different, so different. As the tape wheeled around the spindles I stared at the album cover and read every last inch of the liner notes even though I didn't know anything about this Prince guy.
Looking back I had no idea how sexual that album was until much later in life. My mom must have been clueless or just didn't listen when Prince was singing about "a pocket full of horses, Trojan and some of them used." Now that I think about it, I don't think he was singing about a little red Corvette at all.
Nonetheless, I was hooked and my cousin and I had an instant connection of music which would last for decades. She later moved to Florida, went through as few marriages and found God. I haven't talked to her in years, we just drifted apart.
A year later the film and soundtrack "Purple Rain" came out. I reached my teens then, the big 13. When the film came to our small town, I was so excited. Prince was now a household name, the world had "Purple Rain fever." My brother, who was three years older than me, took me and my friend Greg to the theatre to see "Purple Rain" and when we got there a line had already formed down the street. So we get at the back of the line and my friend Greg (who wasn't too bright at the time, but loved Prince) says out loud "Why are all these black people here?"
Me and my brother told him to shut up, but it was too late. A big black guy, seemingly the biggest guy in line, who was in front of us, turns around with his girlfriend and said "what'd you say?" Greg froze and sheepishly said "I'm sorry, I forgot Prince was black." The big guy laughed it off and said it was ok, he was only kidding. I seriously think Greg pissed his pants a little bit right then, but it didn't' stop us from going into the movie and see "Purple Rain."
I remember that film like it was yesterday. The place was packed and it's the first time I'd ever seen the people watching a film get up and dance and sing along to a film. Also, how could you ever forget seeing Apollonia Kotero's boobs when she jumped in the lake? I was 13, what can I say, Mostly I remember the songs, especially when Prince closed the show with "Purple Rain," "I Would Die 4 U," and "Baby I'm A Star." I hadn't seen anything like that since I saw "Kiss Meets the Phantom of the Park." Once again, I knew what I wanted to be in life – a fucking rock star.
I follwed Prince's career throughout the 1980s with hit album after hit album – Around the World in a Day; Parade; Sign 'O' the Times; and Lovesexy, but I kind of lost interest when he did the whole  Batman soundtrack in '89.
The 1990s rolled around and I was hip-deep in grunge music but kept my Prince torch burning. This is also when things got a little weird with the man from Minneapolis. He got in a huge fight with the big wigs at Warner Bros. – his label at the time – and changed his name to a symnbol. However, the killer albums still kept coming with Graffiti Bridge, Diamonds and Pearls, Gold Experience, and one of my all time favorite Prince records Chaos and Disorder – an album which rarely anyone remembers.
Around this time Prince picked up his new backing band – The New Power Generation. I didn't care for them as much as The Revolution, but really Prince played all the instruments on the record anyway, so what did it matter.
At the turn of the century, I kind of gave up on Prince. He got too far out there and his music wasn't as captivating for me. However, in 2004 Musicology came out and it had some decent tracks on it then he followed that with 3121…and hey maybe Prince was back at it, despite becoming a Jehovah's Witness and giving up all the perverted songs. I have yet to get his 2009 LotusFlow3r album but I certainly will soon, especially since I've heard a couple great rock songs on it.
There are very few people in music I would call a genius, but Prince would be at the top of that small list. Love him, hate him or feel indifferent you cannot deny how much talent this guy has. Nothing will ever replace that feeling when I pull out those older Prince albums and remember the good times as a teen discovering music.
Courtesy of Tory Michael & Innocent Words