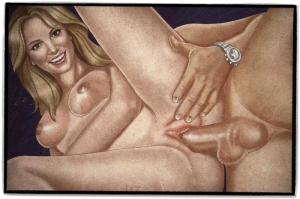 If Britney Spears were a porn star, the world would be a much better place.  Among the many artists and musicians that I admire, I must admit that I revere and idolize Britney Spears the absolute most and to the highest degree.  Say what you will, make fun of me all you want, but it'll only make me adore this woman even more.  Her concerts, at least the seven that I've attended, have spoken to me and have quite literally been some of the most incredible moments of my life.  And by seeing all her other loyal fans decked out and bathing in Spears gear, I can easily say that I'm not alone when I say that I love Britney Spears with all my heart.  I grew up with her, I listened to her, I sang with her (mostly in the shower or in my car when no one was there and I knew I could get away with belting out her ballads as if it were my last day to live), and now I bring up the following question: what if Britney Spears were a porn star?
The transition from pop star to porn star would, in many ways, be both an easy and difficult journey.  Britney Spears has already overcome the obstacle that all young, female singers face of growing up.  But, the minute we saw her with that pink thong over her jeans, a man licking the side of her face, and later, a boa constrictor around her neck, we knew unequivocally that her squeaky clean image was lost like a penny in a couch.  And with the onset of her marriage to Kevin Federline, the birth of her two beautiful boys, and her future nervous breakdown and head shaving, the decision to be a porn star doesn't seem that outrageous.  Does it?
While there are undeniably so many detrimental effects from a transition such as this (like how it would ultimately effect her family), I also see many positive outcomes.  Quite apparently, we would all be able to indulge in a celebrity nip slip that would last a lifetime.  Naturally, we all wonder what celebrities look like naked, and in certain circumstances, we have sex tapes to satisfy our inquiries (thank you Paris, Pamela, and Kim).  If Britney Spears were a porn star, all my questions would be answered and we could literally see the Queen of Pop getting dominated by Bobbi Starr or taking James Deen's dick.  And of course, I would have a higher chance to meet Britney, since our degrees of separation would be dramatically minimized.
And perhaps most remarkably seamless are the ways in which Britney's songs can easily be turned into adult feature films: Hit Me Baby One More Time, I'm a Slave for You, Born to Make You Happy, Gimme More, Get Naked, Perfect Lover, Piece of Me, Womanizer, Lace and Leather, Out From Under, If You Seek Amy, Inside Out, Up N' Down, Boys, I'm Not a Girl…Not Yet a Woman, Oops…I Did It Again, Touch of My Hand, Hold It Against Me, I Got That Boom Boom, and 3.  It's evidently a win-win situation.
Yours truly,
Scarlett Stone