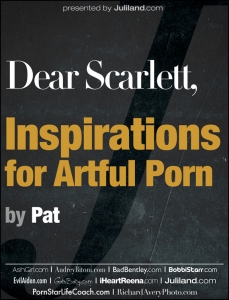 The following submission and any other submissions to "Dear Scarlett" are by independent contributors who have agreed to our terms of use.  We are so appreciative for their work and encourage them or any other interested parties to contact us for online publication.  Now, let's get down and dirty…
Porn can be an obscene expression of lust, but it can also be a celebration of beauty through sexuality. I call the latter "artful porn," and for the past five years, I've made it my business to find, share and write about the matter on my blog, ArtfulPorn.com.
The idea for a blog dedicated to tasteful and artistic porn didn't come out of thin air. In fact looking back, I can trace it to four key inspirations.
Jenna Jameson and Brittany Andrews – In 1998, Wicked Pictures released Flashpoint X. It was a pretty standard porno film, with a silly plot and sex scenes awkwardly mixed into the story. But it also featured what is still often tagged as "the best lesbian scene ever."
I first stumbled upon this in the rampant 56K modem peer-to-peer file sharing days on the old Kazaa network. I can still recall all the little details: from the waiter's bad hairdo, neatly framed scenes, and that shot of Brittany Andrews' lady juice clinging to Jenna's tongue. It made quite the impression on me, and I recall being surprised at how tastefully they presented such explicit subject matter. Why couldn't more porn be like that?
Sandra Shine – I first saw Sandra Shine through Ron Harris' collection of artistic nudes. At the time, she was showing up in all the best artistic nude shots on the web, including photos by Viv Thomas and J. Stephen Hicks. Impressed by her incredible and consistent portfolio, I became a fan. That's when I discovered her more risqué lesbian erotica.
Sandra Shine's lesbian films were a revelation. I was faced with well staged and beautifully composed shots combined with this visceral and sensual performance by Sandra. It stood out to me and I recall thinking about these films for a long time; I had never done that before. I found the whole thing jarring, and it challenged my preconceptions about explicit pornography.
Andrew Blake – Internet clips from Andrew Blake's film Aria blew the lid on the whole art-porn thing for me. In Blake's films, you have pure artistry on so many fronts. There's the filmography, lighting, fashion, architecture and so much more. That there is sexually explicit content is, at times, incidental to the visual masterpiece on film.
Blake's films introduced me to art-porn and I began collecting his works and analyzing them scene-by-scene. Is this art? Why? What makes this work? Blake got the critical thinking process started.
Brigham Field – By mid 2008, I was thinking about various blog ideas while occasionally scouring the web in search of tasteful and artistic examples of the sexually explicit. It was actually pretty hard to find. I considered putting a blog together where I might share my finds. The problem was that I just couldn't find enough to keep an active blog.
But then Brigham Field, an admired artistic-nude photographer began to apply his unique style to lesbian and later, boy-girl photos at X-Art.com. His work was incredible and consistent. I could write about this, I could share his publicly released photos. Between X-Art's releases and my finds, I just might have enough to get a descent blog started.
By now, ArtfulPorn.com has been online for nearly five years with constant updates, reviews and interviews. I'm very proud of the content we've been able to share and I'm encouraged by the art-porn and feminist-porn trends I'm seeing today. To those who've inspired me, and to those who continue to create artistic porn: thank you.