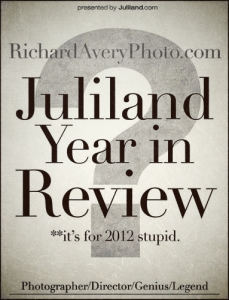 Yo!  Is it that time of the year?  Is 2012 coming to an end?  Holy FUCK!  Another year has gone by in the blink of the eye.  The more we do, the faster the time goes by.  I've never done a "Year in Review" article before, but I thought I would because 2012 was a great year for our Juliland Universe.
First, I want to start with the exciting things that happened such as new grrls, amazing jGrrls and more crazy grrls.  We launched new blogs, new sites and started Juliland Radio.  We also created a great resource for all you newbies called PornStarLifeCoach.com.  And of course, we kept building, growing and expanding in every way we could.  The scary part is, we are still only just beginning!!
Next up, I wanna say thanks to my peeps!  Starting with Jette Violet – this could never happen without her.  To Scarlett Stone, my words can not come close to how I feel.  Thanks to Jessica Twisted, Troy Michael & Stella Blue for ALL your contributions.  Thanks to our amazing staff, Deke Rivers, Chad Gates and Pacer Burton.
Now let me speak about my grrls or as I like to call them, my family.  Ash Hollywood, our jGrrl of the Year for 2012, has been amazing!  There is NOT a day that goes by that I don't smile because of her.  Her effort and her passion is to be admired by all!  Aiden Ashley, MY evol grrl!!!  Creating with you is ALWAYS an adventure and one adventure I can never get enough of.  We have so much more to do, so let's get busy!  Samantha Bentley, I literally love your crazy ass!  You make me smile in too many ways to count.  I know we have so much more to do, so get your ass back here so we can play!  Bobbi Starr, one word… FAMILY!  You amaze me like NO other.  WITHOUT your love and support I would not be here.  Audrey Bitoni, words are NOT enough.  What we do, what we are and what we will do is what I have always have dreamed of.  WE are truly special.
ALL my grrls make my Juliland Universe the best.  Everyone brings their best to me and I'm beyond grateful for it all.  None of this would happen without this family.  That is what makes us so special.  This is why we do what we do.  This is why NOBODY can come close to us in any way.  I said it from day one, Juliland is NOT a website; it's an experience.  Thank you everyone and let's have another great year in 2013!!
yup,
Richard Avery