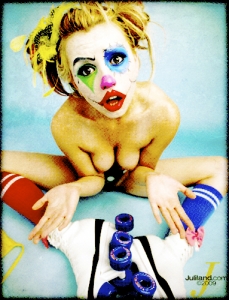 Lexi Belle rules with a iron fist and a golden heart.  And as you can see, she's been a jGrrl twice and was the jGrrl of the Year for 2010.  She hosted our second show, 7 Minutes in Heaven.  She's a favorite for many reasons, but she's a friend for many more.
It all started with a first shoot/date when she suggested masturbating with carrots (I knew she was my kind of grrl).  We have grown from there on so many levels.  Many shoots, many great images, and so much fun.  AND I can NOT mention Lexi without mentioning our famous clown images.  Those images are probably the most popular images I've created since starting Juliland.com.  There are so many more that I love, but those images have become iconic for Lexi and me.
The future looks bright for Juliland and Lexi.  We have many ideas to build on and create.  I hope to shoot bunches more in the new year.  I hope we get to do all that I dream of.