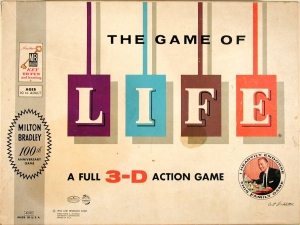 Sometimes I find myself watching porn for hours at a time and I start to forget that the non-adult community is quite contrary from what I'm viewing on screen.  In most cases the difference between civilians and porn stars is remarkably evident, especially when they're standing before you in a comparable fashion.  The stereotypical porn star is Barbie-like, with an affinity for spray tans and hair bleach.  In reality, the adult industry and their stars are making an attempt to appear more "real" in order to interest and mimic their civilian viewers.
Nevertheless, mainstream porn as a whole (and on the hole) still caters to the realm of fantasy, and as a result, the actors in each film are an illusory breed.  To compare a civilian man to the girth of a porn star is setting him up for failure, just as measuring a civilian woman to the body, flexibility, and sex drive of a porn star is simply unreasonable.  If we know that adult content is a delusional misapprehension of Viagra and glitter, then why do we continue to compare, contrast, measure, and scrutinize?
Assume for one moment that the civilian world, otherwise known as our everyday life, was directed to follow the facade and affectation of pornography.  How often would we cum?  Would blue balls exist?  Would the concept of sexual identification sustain?  And perhaps most importantly, would I have an endless supply of dildos?  All of these questions are answered along with dozens of others in something I like to call, life according to porn…
Women achieve orgasm 100% of the time.  With a dick in their mouth, with a pussy at their lips, even when they're doing their taxes, they are still cuming. 
The minute a cock enters a pussy, regardless of prior foreplay or stimulation, a woman will start to orgasm immediately after insertion. 
 Women do not produce pubic hair, and if they do, it tends to grow into the shape of an arrow.  This arrow shows where the clitoris is because lord knows it's a hidden shrine to some.  Other women who freakishly grow a full bush are filtered into subcategories of fetish known as "hair."
 Female breasts are not breasts unless they are more than a handful, an asshole isn't an asshole unless it gapes, and vagina isn't a vagina unless it squirts.
 Female assholes are clean and pretty because fundamentally, the concept of women producing fecal matter is both fictitious and false.
 Women are sexually fluid and accordingly, they will most likely love women just as much, if not more, than men.  
When having sex, sexual partners are either called "daddy" or "baby."
 A vagina is not a vagina – it's either a "pussy" or a "cunt."  These pussies and cunts are ALWAYS "tight,"  despite how many men have cum, licked, and conquered. 
 Women are chronically wet. 
No blemishes, no tan lines, no pimples, no indication of pores whatsoever.  
When women have sex, their Tourette's are exacerbated.  Medication and treatment have been implemented, but the "fuck, shit, motherfucker, cocksucker…" just seems to never stop. 
Hair color defines and brands you.  As a blonde you're seen as cute, ditzy, and slutty.  As a brunette, you're a sultry, sexy vixen.  As a redhead, you're a fetish.  Alternative colors mark you as a suicide girl into kink.  With short hair or a shaved head, you're branded as a lesbian solely into women.  Either way, you fit into predetermined stereotype and you go with it.
 Women swallow always, and if they do spit, they'll spit into their fellow female's mouth.  Sharing is caring.
 Cum shots? No problem. Double anal? No problem. ATM's? No problem. Gang bangs? Love 'em. 
MHNGR (Must Have No Gag Reflex) 
Every girl has a dildo in her back pocket, and if she doesn't, there's twenty waiting for her back at home. 
 Condoms?  What are those?  Refractory period?  What's that?
 The names of women are based on the following: Barbie's family and friends, sugary treats, popular names of the 90's, unisex names usually designated for men, brands of liquor, precious stones, colors of the rainbow, and rhymes fashioned by Dr. Seuss.  
The soundtrack to your sex life may include Def Leppard or overtly sexual elevator music. 
If you're wearing clothes, you're already wearing too much. 
If a penis is less than 7 inches, it's unfuckable and therefore, inapt for a dildo mold.
 Men can stay hard for 24 hours at a time.  You want 48 hours?  Sure, why not. 
Like women, men do not produce pubic hair.  If they do, it grows so very nicely, conveniently manscaped and tamed.  
If women look and sound like Barbie, then men are their GI Joes – built, stacked, hairless, shiny, greased up, and tan.
 If men have sex with men, they're gay.  If women have sex with women, they're "curious, sexy, bisexual, and/or experimenting." 
 If it's a hole, then anything and everything can go in and around it.  
Swords cross? No biggie.  Let's make it a fencing duel. 
There are three types of men: the dominant master, the extreme sub, and the stand-in penis.  Neither make as much money as the woman next to them.  
Men have extreme strength, and as a result, they can lift up to five girls at a time while simultaneously fingering each and every one of them till orgasm.  This is also known as "Hulk Strength" accompanied by the ability to multitask with flying colors.  
Men are camera shy, which explains why their penis and their sexual partners are on film more than they are. 
If pornography and its community were a family, then incest would be the name of the game. 
Men are unbiased concerning orifices.  Thus, all holes are treated equally. 
The only thing men love more than cuming is the chance to cum on a face. 
Man's extracurricular activities include pizza boy, pool boy, man slut, self-mediator of Viagra, and that's about it.  
Houses are either the interior of a brothel, the inside of a Pottery Barn catalogue, the den of a crack house, the couch of a talent agency, or the bedroom of a luxury sweet.  In some cases, you can find yourself in a church, a pirate ship, a deserted island, or the pool house of a MILF. 
Yours truly,
Scarlett Stone
Follow Scarlett on Twitter!