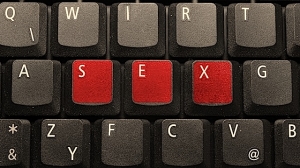 Who knew that in 2005, PayPal employees Steve Chen, Chad Hurley, and Jawed Katim would be responsible for one the greatest contributions to the Internet since Facebook?  Well, I certainly didn't.  In fact, in 2005 I believe I was in high school busy listening to Britney Spears: Greatest Hits, getting ready for my first Winter Formal, and trying to figure out how to meet Paris Hilton.  Needless to say, those were the "dark ages" of my high school career.  But 2005 still did prosper, and it's all due to the development of Youtube.com.  Now almost seven years later and Steve, Chad, and Jawed are most likely loaded and standing neck-deep in pussy.  Ironically enough, their multi-billion dollar website is as well.
It seems that when adult websites are either down or giving more spam than happy endings, lustfully impatient men and women are going to Youtube to get their rocks off.  In fact, my own man has confessed to rubbing one out to a video titled "Sexy Aerobics Lessons Original."  By going onto Youtube instead of an adult domain, users are not only less likely to be flooded by annoying pop-ups, but they're also free of pornographic websites showing up in their Internet's history.  All in all, it seems like a pretty good deal.
But by staying away from exclusively adult websites, users are also getting less skin.  In the words of Youtube and the rules that must be followed:
"YouTube is not for pornography or sexually explicit content. If this describes your video, even if it's a video of yourself, don't post it on YouTube. Also, be advised that we work closely with law enforcement and we report child exploitation…
Most nudity is not allowed, particularly if it is in a sexual context. Generally if a video is intended to be sexually provocative, it is less likely to be acceptable for YouTube. There are exceptions for some educational, documentary, scientific, and artistic content, but only if that is the sole purpose of the video and it is not gratuitously graphic. For example, a documentary on breast cancer would be appropriate, but posting clips out of context from the documentary might not be."
Quite clearly, these rules are broken everyday by both men and women eager to take their clothes off for either their partner named 'Mike' or the entire world.  Either way, I don't think viewers are complaining.  But I do have to wonder, how does one determine what is or is not 'pornographic' and who is responsible for filtering through each and every submitted video?  If we follow their rules and take a note from what's appearing on their pages, one can easily see that Youtube views sorority carwashes, stripteases, aerobic thong lessons, lap dances, inflation and deflation of penile implants, ass classes, nude drawing, naked yoga, erotic breastfeeding, and Chip 'n' Dale audition videos as non-pornographic.  True, we are not seeing gangbangs or cum shots, double anal or golden showers.  Instead we're seeing content that lies somewhere between an R and NC-17 rating.  Thus, the only thing that separates a YouPorn from a Youtube are a thong, a bra, and community guidelines.
Yours truly,
Scarlett Stone
Follow Scarlett on Twitter!