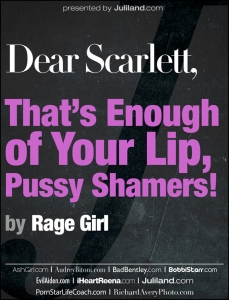 The following submission and any other submissions to "Dear Scarlett" are by independent contributors who have agreed to our terms of use.  We are so appreciative for their work and encourage them or any other interested parties to contact us for online publication.  Now, let's get down and dirty… Hey ladies, I know we've just met and I don't mean to be forward, but I just wanted to let you know that your vagina is fine. Not just your vagina, but your whole downstairs party is fine. It's perfectly normal, it's totally okay and no, it doesn't look like Princess Clara's Octopussy in Drawn Together. Even if it did, that's still sexy and you should own that! First and foremost, lady flowers are like snowflakes.  No two are the same. Yet, women are still going under the knife to get a "clean cut" look that actually doesn't exist for most of us.  Now, if you are one of the few that have that look (or as one of my University friends used to call it, an "innie") you'll probably never come up against much scrutiny of your lady parts.  You, my small-lipped friend, are what the porn industry has historically presented to the masses as the "stereotypical prefect pussy."  You're not the problem, you're the ideal.  And that in itself is the problem. If you have an "outie" downstairs, you will most likely find yourself at some point or another face to face with a douchebag knucklesucker who thinks it's his duty to comment on your bits.  There are many courses of action that can be taken, and I'd be lying if I said punching him in the face was inherently wrong.  But violence is never the answer, even if it feels damn good in the moment.  The real answer is becoming confident in yourself, and this is exactly how you do it:
Google Image Search: Vagina.
Watch female-positive porn (trust me, it's out there).
Get a hand-held mirror and stare deeply into your bits.  After all, it's what our mothers did in the 1970's.  You may not immediately like what you see, but force yourself to look anyways.  Eventually, it will grow on you.
Practice flipping the bird to all those douchebag knucklesuckers.  You'll not always need this strength to resolve, but when it's required you'll be glad you have it in your back pocket.
The majority of people I've talked to who enjoy having sex with women don't seem to care what it looks like downstairs.  All they really want is for the parts to resemble a woman's.  Their main concern is, "Is it a pussy?  Can I shove my face into it now?"  As a proud owner of an "outie," I can confidently say that only once did someone recoil at the site of my pussy.  It was hard to hear then and even harder to write about now.  Over time, I would occasionally hear the question about going under the knife and getting corrective surgery.  But there was really nothing to correct!  I still would wonder, "Did I need surgery?  Was I abnormal?"  On both accounts, the answer was no. My vagina has not stopped me from wearing bikinis, riding horses or running.  It's not infringing on my ability to do normal activities.  But if it did, then maybe I'd have considered surgery.  I realized that my fear of being judged was infringing on my ability to fully enjoy my body and being cool with what I have.  So instead of getting rid of my bits, I got rid of the person in front of me.  To all my fellow "outie" women out there, I would hate for you to have to go through that, to have to put up with those sorts of questions or ridicule because you think there's some truth in what's being said.  The ideal does exist, but it doesn't mean it's your ideal.  It certainly doesn't mean you should go under the knife to correct a piece of you that's rarely seen by others.  And if they are frequently seen by others or you're the kind of girl who glamour shoots her pussy or spreads it in porn, then I implore you – don't change!  At least, not for other people.  Be proud of the body you've got.  Ask them to never airbrush it out. This is part of you, this is all of you!  It's beautiful and it's wanted.  And remember, if keeping your lips isn't hurting you, then it could be seriously helping someone else.