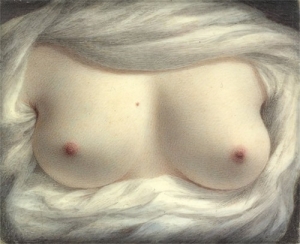 If we take a que from societal standards of beauty, we would learn that good looks open doors, assets bring forth erections, and on some occasions, a smile can drop trou.  If we study the curves and cup sizes of bombshells such as Christina Hendricks and Kate Upton, we would also learn that tits are it.  Knowing that breasts are the best and a truly nice pair is rare, why would someone voluntarily reduce their chest size?  Is it crime against nature?  Or perhaps most importantly, is it a blow to God's ego?
When I typically tell people that I myself went under the knife for a breast reduction, the general response is utter shock and unwarranted judgment.  Women tend see my decision as not taking advantage of what I had.  I look at these women, peer down at their non-existent cleavage, and then put two and two together.  My breast reduction is a reminder of their own inadequacy.  I simply tell them, "If I could have given you some of my tissue, I would have!"  Now for most men, my reduction is seen as a direct punishment towards God and his generous gifts.  Little do they know that my mother passed down her rack through childbirth.  After all was said and done, I was surprised to find that my breast reduction, a choice made between me, myself, and I, offended so many people.
The surgery itself occurred in the summer of 2009 after I had gone back and forth between the pros and cons of reductions.  The pros showed that I would have smaller breasts and a huge weight lifted from my back.  The cons showed that I would have post-surgical scars, a semi-long recovery period, and perhaps most unfortunately, I would have to rid my closet of all things 34DDD.  It was almost as if I was getting rid of my middle name.  Scarlett "34DDD" Stone would now forever be known as just Scarlett Stone, and to be perfectly honest, the thought of being known for something other than my tits was peculiar.
But that fateful day did cum (too fast, of course), and I went in and out (too fast, of course) through the surgery.  For several hours I was one of those nondescript beings who so often are captured by film for The Swan, Dr. 90210, or True Life.  My breasts were cut open, liposuctioned, sewn back together, and reshaped to look like a photograph I brought into my consultation one month prior.  Then in a daze of anesthesia and tightly bound bandages, I awoke and went home with my rack-ridden mother where she took care of me for weeks.  My days consisted of taking pain medication and thus, feeling amazing, watching horror films while doped up, and then falling asleep without eating anything.  By the time I was ready to take my first shower, I had lost about fifteen pounds.  And for a delirious girl who loves her curves and has yet to see her brand new tits, the experience was gut wrenching, to say the least.  I found out that day that a handful of breast reductions result in post-surgical depression where one has difficulty accepting a new body image, despite the fact that the modification was deliberately intended.  And of course, the "anchor scars" didn't help.  But like most marks and blemishes, my scars disappeared over time.  And now almost five years later, I can't even remember what my original bust looked like.
After searching the ends of the Internet and back, I learned that just under 113,000 breast reduction procedures were performed in 2011 in the U.S. (a huge increase from 1999, when only 70,000 were performed).  That's a whole lot of offending people who want some tit tissue or see the operation as sacrilegious.  To those individuals, I'm sure you'll get over your bullshit once you see just how incredibly gorgeous my breasts are.  You may even drop trou.  And to Kate and Christina, move over!  Scarlett "34DDD" Stone is now proudly Scarlett Stone with a small D cup, new lingerie and all.
Ironically enough, the men in my life who consider themselves "boob guys" had little or no idea that my breasts were once three sizes larger.  Judging by their faces each and every time my shirt comes off, I can confidently say the surgery went extremely well.  Their expressions remind me of kids in a candy shop, and in some fucked up universe, I'm their sweet lollipop to lick.
A veteran of breast augmentation, I now join the ranks with Drew Barrymore, Queen Latifah, Heather Morris, Rosanne Barr, and many more ladies who share the same motto that big isn't always better.  Our anchor scars, although mostly gone, unite us as strong women and non-conformists taking control of our bodies.  After all, there's really nothing sexier than a confident woman taking control.
Yours truly,
Scarlett Stone
Follow Scarlett on Twitter!