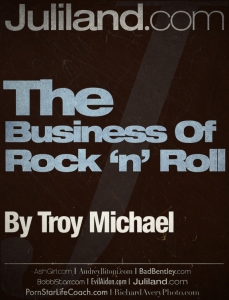 There was a recent report about a bank looking to foreclose on former Kiss guitarist Ace Frehley's home in Yorktown, N.Y. The reason being, the bank claims that Frehley, 61, has not paid his mortgage since March 1, 2011.
Apparently the legendary guitarist owes a principal of $703,581.48, plus interest, late charges and fees from a $735,000 mortgage he took out in 2006.  Frehley's 2,441 square-foot home sits on three acres of land and the U.S. Bank National Association is asking the local court to force a sale of it to recoup the money owed.
Records show that Frehley has not paid taxes on the property since Dec. 30, 2011. A lien of approximately $5,000 was placed in 2011, and he owes more than $13,000 in 2012 back taxes.
In short, Ace owes a lot of money and could be in some serious trouble.
This situation with Ace got me and a friend, who is a big Kiss fan, talking about Ace, royalties and the music business.
Ace, who is an original member of the band, hasn't been in Kiss since around 1982, though Kiss did a reunion tour with all four original members in the mid-1990s. Since his departure from the legendary band, Ace has had mild success with his own band Frehley's Comet in the late 1980s. In 2009 Ace released his official post-Kiss solo album and also wrote his biography which was published last year. Clearly, Ace has worked steadily over the last 30 years, maybe not to the success of his early days, but enough to earn money.
When the story about his home situation broke it made me feel sad for him because this guy is a hero to a lot of people, Ace inspired thousands of kids, including myself, to pick up the guitar. Nobody wants to see their heroes fall on their face, and Ace has done it several times.
Then, the more I thought about it the sadness turned to anger and bewilderment. It is very clear that Paul Stanley and Gene Simmons totally screwed over Ace and original drummer Peter Criss when it came to money…and obviously they continue to still do so using other people to carry on Ace's Kiss persona. But where's the royalties? Ace played on some of the biggest Kiss albums to date, shouldn't he be getting paid for those songs he wrote and albums sold? If so, where is his money going that he can't pay his mortgage? Yes, yes yes, I know what you're thinking; drugs and drinking. But he has apparently been sober for a few years now. Even at that with the book, the CD, and even a song in a recent car commercial, you'd think he could pay his bills.
Ket it be known there is way more to Ace's life and financial situation than is in the article about his home problems.  He, along with Kiss was ripped off by their manager in the 80s and essentially went bankrupt. He is also twice-divorced and has a kid and Ace spent a massive amount of money on drugs, booze, cars and other lavish items which come alone with fame and fortune. Finally, Ace caused most of his own problems and at some point in your life you have to take responsibility.
There are two closing thoughts on this situation that I leave you with.
First, I am so tired of "celebrities" earning millions of dollars and pissing it away then looking for ways to get bailed out (not that Ace is asking for help, but I wouldn't be surprised to see an upcoming "Ace-athon" to help him save his house.)
Secondly, and this is the one that bothers me the most, remember when you were young and had a few friends who wanted to start a band to make music for the pure love of it? Maybe you'd get a few shows, meet a few chicks and even make a record. The band would share a shitty house or apartment; write songs and tour in a beat up old van, that was fun – that was rock 'n' roll. Then you catch a break and before you know it, the band is big…really big. Everyone has separate dressing rooms, different tour buses and the only time you see your friends is on stage. The booze, the drugs, the women and the music – yes, remember the music. Next thing you know, you have no friends, you're an addict and you're yesterday's news at best and you can't afford to pay your taxes and mortgage.
Yes, I know I am naïve. It is called show "business" for a reason.
Courtesy of Tory Michael & Innocent Words