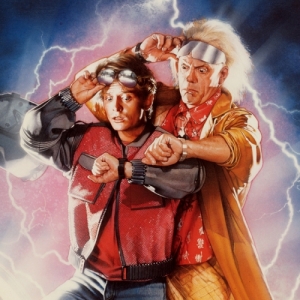 Albert Einstein once said, "I never think of the future – it comes soon enough."  When I read his words, I can't help but think of the future in terms of time, as well as the future in regards to orgasms.  Perhaps my mind is perpetually dirty and settled in impure thoughts, but I do see truth in my perspective as both cum, both too soon.
Taking Einstein's quote a step further, I challenge myself to envision the future of cuming, the imminence of sex, and the impeding position of pornography.  Perhaps a more appropriate quote to develop upon is one by a lovely lady whom I admire very much, Patti Smith.  She states, "I don't fuck much with the past but I fuck plenty with the future."  If I take her words quite literally, then I propose the following question: What is the future of fucking?
I imagine the progression of pornography as a long timeline that you might stumble upon in a history textbook.  On one end, the ancient Egyptian hieroglyphics and tablets, accompanied by the early texts of the Kama Sutra.  In the early middle, grey-scaled images of pornographic material from the 19th century.  Further along, polaroid photographs of pinup queen, Bettie Page, and stylized drawings by Gil Elvgreen.  Following, I see some of Bobbi Starr's favorite girls of the 1970's and 80's proudly wearing a full bush down below and Twisted Sister hair on top.  On the other end, I imagine an amalgamation of 2-D and 3-D adult content from the new millennium till now – a retrospective of images from Wicked Pictures, Evil Angel, Kink, Bang Bros, Brazzers, and of course, Richard Avery.
If you look at adult content in full, there is undoubtedly a progression of violence and aggressive behavior that is perhaps most evident in sub genres such as BDSM, fetish, alt porn, bodily functions, etc.  But even these subgenres have become more mainstream and "vanilla."  In fact, professors such as Neil Malamuth have conducted thorough studies that prove a correlation between high consumption of pornography (especially violent porn) and the development of sexual aggression.  Perhaps the future of porn will continue to be full of violent tendencies and the degradation of women.  However, my hopes are directed to a more egalitarian form of sex.  Democratic fucking, anyone?
That being said, there has still been a drastic development in adult content that is "female friendly."  These undertakings in producing work for women can be more romantic or soft in nature and suggest an equality between man and woman.  In many cases, as seen in the work created by Bobbi Star, there's a strong move towards the dominant female, a role in which the woman switches places with the man in question and appears to be in positions of supremacy and control.  There's a lack of facials, cum shots, snuff, and blowjobs.  Rather, there's a presence of female POV and face sitting, a combination that has the ability to significantly empower the female viewer.  Then there's a more extreme form of "female-friendly" porn, one in which involves soft lighting, less makeup, wistful music, attractive partners, non-gonzo perspectives, and the suggestion of love between the couple on screen.  Despite the fact that this content is "female-friendly," many women may find themselves untickled and uninspired, and in many instances, "female friendly" porn is admired by men, sometimes even more than their female counterparts.
The future of porn seems to be blurring the line between art and adult content.  It's becoming more difficult to determine the intention of both photographic and cinematic media, as many production companies are becoming more artistically-driven.  And upon asking both my male and female friends, there seems to be a strikingly new affinity towards the work of Anna Span, Erika Lust, Petra Joy, Joymii, and X-Art.  These directors and producers are essentially making work that appears to be a guise into the life of a couple in love.  In effect, we as the viewer feel like voyeurs permeating the line between the public and private.  In many cases, the couples on screen are in real relationships.
As a matter of fact, X-Art offers their coupled viewers a chance to be on their website for the substantial price of $10,000.  They explicitly state, "We're seeking gorgeous female models and couples (age 18+) to be featured in upcoming X-Art videos.  Join our Erotic Revolution, and be the next model or couple to be featured in the beautiful erotic videos and photos on our site."  Veritably, it's their unprecedented 'Erotic Revolution' that I believe to be the future of porn.  Their insurgency of natural, beautiful women from around the globe, untainted by breast augmentation and fake tans appear to be truly enjoying themselves.  And did I mention the lack of porn parodies and strange dialogue between the woman of the house and the pizza boy?
Your's truly,
Scarlett Stone
Follow Scarlett on Twitter!