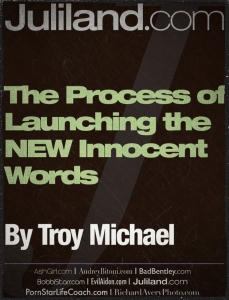 Over the 10-year span of Innocent Words I have been lucky to see the good, the bad and the ugly of the music industry and people in general. I've done things I had only dreamed of prior to starting Innocent Words, again, I am lucky.
In 2012 we celebrated our 10th anniversary. I had some grandiose ideas that never saw the light of day thanks in part to time restraints, health issues getting in the way and, of course, money or the lack thereof.
To be perfectly honest, I lost my mojo. I was incredibly burnt out.  I saw it coming a few years prior when at the end of the year I kept questioning whether or not to carry on with Innocent Words. Ultimately, I would, but last year was the true test of all tests. I wanted to make changes to Innocent Words, big changes which costs big money (at least big when you are a DIY indie magazine).   One of the many ideas that I was very passionate about was if Innocent Words were to carry on we would make a brand new website from the ground up. It's an idea I had toyed with a few years prior and always kept in the back of my mind until the time was right.
At the end of 2012 I met a guy named Chris who had photographed some of the biggest rock stars you could imagine. He was a lot like me – burnt out and jaded. Chris was older than me by a few years and had seen it all and done it all 10 times over compared to my little rock 'n' roll life. He has stories you can't even imagine and they are all true and they are all spectacular.
But I digress.
Chris is an artist in every sense of the word. He has a fantastic website showing off his portfolio and a host of side projects he has websites for as well. During one conversation we had on the subject of websites I told him I was looking around for a new webmaster and I really liked his sites. In perfect Chris fashion, he immediately jumped on the ball and introduced me to his webmaster Shannon.
Shannon was Australian, but has lived in the L.A. long enough that you hardly notice her accent. She and her fiancée make horror movies; this was a good sign. Shannon, like Chris, was an artist in many facets and somehow saw the vision I had for Innocent Words even though I am technologically challenged. After interviewing a few other webmasters, it always came back to Shannon; she was hired.
We mapped out the new website for Innocent Words and to be brutally honest it was scary for me. I hate change and technology kind of freaks me out. I am sure Shannon was questioning what she got herself into at some points, but she led the way and deciphered my explanations about what I wanted and did an amazing job with the new look of Innocent Words.
Part of my apprehension of the new website was transferring 10 years of back issues from the old site to the new one. The time table was two months, which seems like a long time, but when you have over 500 interviews/features, 1,500 CD reviews, 160 book reviews, 200 DVD reviews, 100 blogs and other assorted content to transfer, 60 days just didn't seem feasible to get this all done.
The only rational answer was to bring in some help. I sent out an open call via social networks that Innocent Words was hiring and I was completely shocked by the response we got. One of the inquiries was from a long-time friend named Brian. I had lost touch with Brian but he had worked with Innocent Words prior to shooting live shows and videos. The choice was a no brainer. Brian was my man. He is computer savvy, believes in Innocent Words and, most importantly, one funny guy, so working with him would be a good time.
Between Brian, Shannon and myself we knocked out the ten years of content and got it done before our February issue launch. It was exhausting, but rewarding on many levels.
There are tweaks and changes to be made along the way, but we'll get there. If nothing else, one of the things about Innocent Words I love to this day is that every day is different…but to be truthful, technology still kind of freaks me out just don't tell anyone.
Thanks for reading,
Troy
Courtesy of Tory Michael & Innocent Words